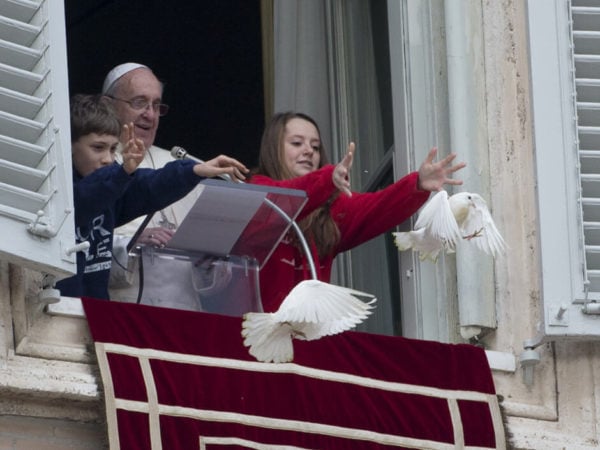 Internet users could not escape the disturbing images of a seagull and crow attacking Pope Francis' peace doves moments after their release from a Vatican window last Sunday. The episode turned the Pope from a beloved media darling to a subject of criticism.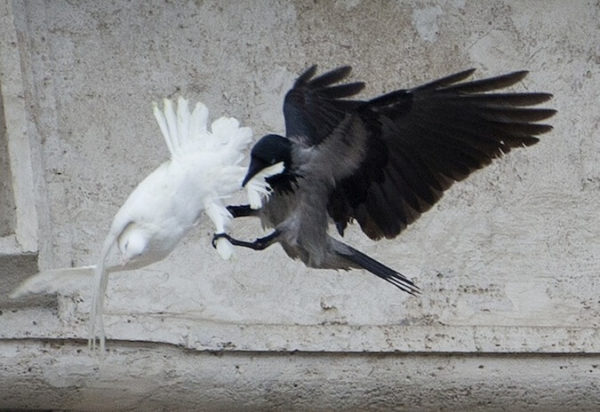 As the story and photos went viral, many commentators interpreted them as a sign of impending doom. The symbolism here was rather obvious: a dark, sinister crow swooping in to take down a pure, innocent peace dove. There's a logical reason for the attack, though: white birds are highly visible, which makes them easy targets, and domesticated doves have trouble recognizing and fighting predators. It was a disheartening sight in any case.
Pope Francis was the first pontiff to name himself after St. Francis of Assisi, who was famous for befriending and blessing animals. According to legend, St. Francis even preached to birds, and convinced them to stay silent during a religious ceremony. The Pope's involvement in harming doves is particularly ironic in light of this, but it's almost certain that he meant well and expected the birds to fly safely away. The Wednesday after the dove release, the Pope blessed a green parrot named Amore that was offered to him by owner Francesco Lombardi, and let the bird perch on his finger for a few moments.
Animal rights activists have been calling on the Pope to stop releasing doves in future peace demonstrations, and a petition on the topic has garnered over 4,000 signatures. Considering the Pope's personal values and what he witnessed on Sunday, it would be very poor judgment to continue the practice. The Pope has been very vocal about reforming Church rules, so he's not one to sacrifice his ethical beliefs for the sake of a tradition.
The peace dove release should have been a dramatic and inspiring event, but it couldn't have gone more wrong. Fortunately, there are other existing, recognizable symbols of peace that the Pope could use to make an equally strong statement. White poppies have been used since 1933 as a contrast to the red flowers worn on military remembrance days. Hiroshima's Peace Park uses folded paper cranes in remembrance of the atomic bomb's child victims. The "'70s" circular peace sign is another option — earlier this year, anti-violence demonstrators formed a peace sign while holding candles. All of these alternatives are humane, community-friendly and send a clear message of peace. Hopefully St. Francis' namesake can honor his love of animals and move forward after Sunday's blunder.