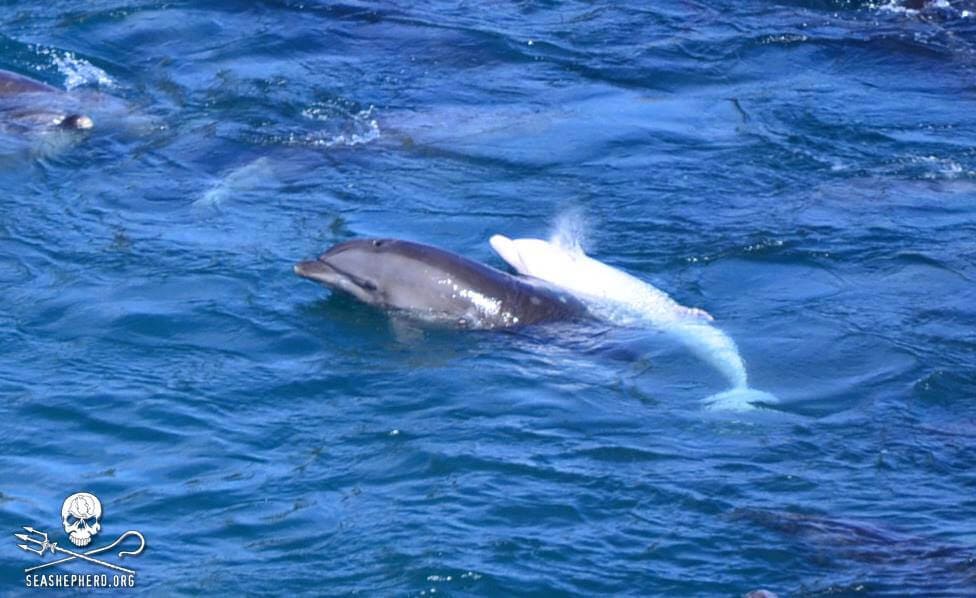 Fishermen corralled 500 bottlenose dolphins over the past week for an annual drive hunt in Taiji Cove. The gruesome four-day event ended on Tuesday, after 41 dolphins were killed and 52 were taken captive for the aquarium trade. The rest were released to sea, but many will not survive after enduring this stressful ordeal.
Among the captured dolphins was a rare albino calf who has received much attention from aquarium owners who recognized her as a valuable commodity, and many activists who rallied to save her. The calf has been given several nicknames, including Angel, Shoujo and, most appropriately, Bambi. Like the Disney character, Bambi lost her mother while still dependent on her. Like typical dolphins, Bambi and her mother stayed close together in the wild, and the calf is not expected to thrive in captivity alone.
Fishermen likely would have taken the mother's life for meat, but anti-whaling group Sea Shepherd speculates that Bambi's mother committed suicide after her calf was taken away. The mother was last seen spy-hopping amongst screaming and injured dolphins before sinking into the water, never to resurface. Dolphin suicides have been documented previously in water parks, with some banging their heads against walls and others simply not coming up for air. Allowing the mother and calf to stay together would have improved Bambi's quality and length of life in captivity, which in turn would have generated more revenue for the aquarium. The fishermen's failure to consider this speaks of their ignorance of dolphin intelligence and social behavior. The story of Bambi and her mother show how hauntingly human-like dolphins can be, though comparing them to humans is perhaps insulting, considering how Taiji's fishermen behaved.
Japan's Chief Cabinet Secretary Yoshihide Suga defended the hunt as "a form of traditional fishing in our country." We now know that dolphin meat contains dangerous levels of mercury, which is known to cause spasms, loss of sensory perception and birth defects. Health concerns alone should be reason enough to stop the dolphin meat trade, to say nothing of animal rights concerns.
The only reason for these cove hunts to exist in their current brutal form is gory entertainment for sadistic fishermen. This is not a good enough reason, and the continuance of this sad tradition mars Japan's image as a peaceful and civilized country. Singer and activist Yoko Ono wrote a letter to the Taiji fishermen, stating, "At this very politically sensitive time, [the hunt] will make the children of the world hate the Japanese," US Ambassador to Japan Caroline Kennedy tweeted, "Deeply concerned by inhumaneness of drive hunt dolphin killing." Taking a more aggressive approach, hacktivist group Anonymous shut down the website for Taiji Cove's location, and threatened to attack more of Japan's government websites to avenge the hunt.
Taiji is the only place in Japan where these traditional drive hunts occur, but the practice remains legal. Killing dolphins is not banned under any international treaty, and are not endangered. Activist efforts have raised international awareness of the event in recent years, and hopefully this year's hunt will be the last.