What a rough winter the northern hemisphere is going through this season. Many are still removing debris left from the biggest ice storm to sweep across some areas in over 40-years, and now a polar vortex has sent temperatures plummeting to dangerously chilly levels.
Seriously, when meteorologists warn unprotected skin can freeze in under 10 minutes, and the American television station The Weather Channel runs headlines about how deadly this cold snap is, it's a bad sign.
According to the Weather Channel, at least 13 people in the States have died due to the extremely cold temperatures, chilling areas unaccustomed to cold climates. This deep freeze is being felt from the Canadian Arctic, all the way to Texas in the States.
Thanks to NASA, images from space show that North America's deep freeze looks cute from space, as the polar vortex spirals slowly across the continent. But that slow moving Arctic air mass is a bad, bad sign.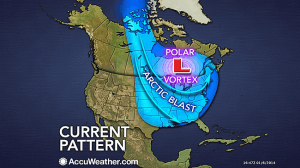 Polar vortexes are low pressure storm systems of strong winds circulating over Arctic which keeps the cold air circulating, usually just over the polar region. However, when the vortex breaks into two or more streams of air, it sends this very cold Arctic air further south – which is essentially, what has happened across a vast chunk of North America.
Believe it or not, global warming may be to blame for the deep freeze.
Polar vortexes themselves are not a sign of global warming, they are part of the Earth's circulatory system to move air, such as the Jet Stream. However, unlike the Jet Stream which moves air masses – and creates our weather – across the continent, a polar vortex generally keeps the cold air circulating at the Earth's poles. They occur at both ends of the planet, the Arctic and Antarctic regions.
What is a sign of global warming is the depth of the polar vortex, how it has expanded past the polar areas and centered around Hudson's Bay according to recent weather imagery.
Scientists say that warmer temperatures in the Arctic in the summer weaken the circulation of cold arctic air at lower altitudes. As with most things in nature, the planet has to balance itself out eventually, so we get a colder polar vortex in winter. This occurred during the 2009-2010 winter, when a similar larger than normal polar vortex covered northern Europe, eastern Asia, and the North-East coast of North America, dropping temperatures to deadly levels.
So, due to a warming planet in summer, the Earth's cold air circulation system weakens. To counter balance this, in winter that system becomes larger, forcing us into a deep chill, which is what much of North America is currently in.
And we're seeing how climate change affects us more than just at the shock to our systems when we venture outdoors.
At Canada's largest airport, Toronto's Lester B. Pearson Airport, hundreds of flights were either delayed or cancelled because of the extreme cold. Airplane engines couldn't handle the extreme cold as fuel lines froze, stranding thousands of people.
Icicles formed in numerous subway stations in New York City, which although pretty to look at, posed a danger should they break off and fall on someone.
Farmers across the American mid-west struggled to keep their cattle alive during the dangerous freeze, while in Florida, citrus farmers were growing concerned about their crops.
In St. Louis, Missouri, movie theatres, restaurants, shopping centers and tourist sites including the Gateway Arch and the city's zoo were all closed. Ironically, a nearby ski resort also closed, because of the extreme cold.
Auto clubs across North America have been working overtime, trying to keep up with all the calls from their customers because their cars won't start.
From being stranded at an airport, to being stuck at home, to increases in food prices, climate change affects more than just how we feel when we open the front door.
Although the polar vortex looks mighty pretty from space, it's a bad, bad sign.