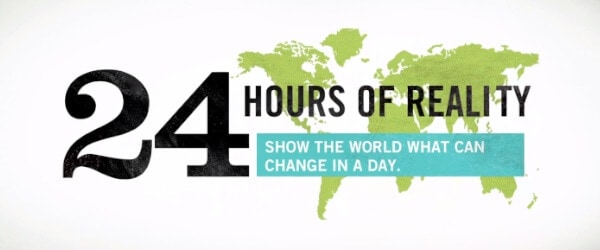 This morning, Al Gore announced the latest climate related initiative he is working on to raise global awareness of environmental issues, and it comes in the form of 24 Hours of Reality, in partnership with the Climate Reality Project (formerly known as the Alliance for Climate Protection).
What is 24 Hours of Reality?
24 Hours of Reality is a live-streamed global event taking place on September 14, 2011, that will unite people around the world to spread the message that something needs to be done about the climate crisis, and the subsequent environmental catastrophes we have all been witnessing as a result of it.
Events in every time zone around the world will be broadcast over the internet, and will feature Al Gore, climate scientists, celebrities, and everyday people who want action to be taken to help our environment.
Watch Al Gore's announcement of the 24 Hours of Reality project in the video below:
In addition to watching coverage from around the globe, 24 Hours of Reality is also going to feature a new interactive presentation created by Al Gore, that will allow viewers to take part in activities that can help our planet.
Check back to Greener Ideal in the coming weeks, and we will help spread the word about how you can participate in 24 Hours of Reality this September.