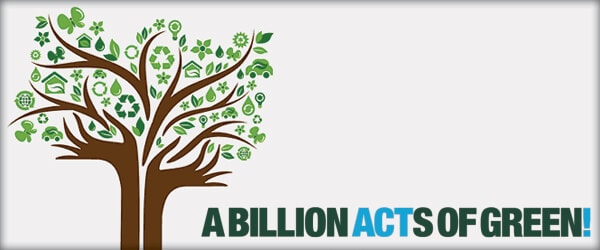 Last year on April 22, the Earth Day Network launched a program called Billion Acts of Green which aims to get everyone to achieve small "green" goals, and eventually enough people will chip in to accomplish one billion environmental acts. Now, celebrities like Leonardo DiCaprio, Edward Norton, and Ian Somerhalder are chipping in to the program to accomplish great acts of green along with everyone else.
Leonardo DiCaprio's Act of Green
While most people pledge to do things like reducing the amount of water they use when brushing their teeth, Leonardo DiCaprio pledged $1 million to the World Wildlife Fund to help save the tigers, which helped launched www.SaveTigersNow.org
Edward Norton's Act of Green
Edward Norton started an online fundraising website called Crowdrise that makes it easy for anyone to start a charitable fundraising program. To help raise money for his charity of choice, the Maasai Wilderness Conservation Trust, Norton ran the New York Marathon with a group of Maasai warriors and raised $1 million.
Ian Somerhalder's Act of Green
Ian Somerhalder created the IS Foundation, which works with other organizations to make positive impacts for the planet. An example of the successes the IS Foundation achieved is in their collaboration with Conservation International, which ended up saving over 300 acres of forest.
Your Act of Green
This year, follow the leads of DiCaprio, Norton, Somerhalder and many more celebrities like Jewel, Ed Begley Jr., Sienna Miller, and Maria Menounos – make the next act of green your own.
You can sign up for the program yourself at Billion Acts of Green, and begin to make pledges that will add to the running total of green acts (at the time of writing there is over 102,000,000).
Click here to see the most popular acts of green – it's the best place to get started yourself.