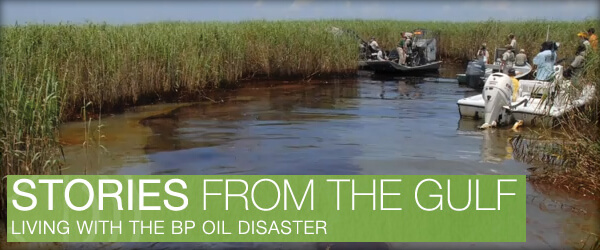 It's nearly been a year since the Deepwater Horizon oil spill in the Gulf, and we are only beginning to see some of the effects of the pollution that flooded our waters for 3 months. In an effort to remind everyone of the devastating impact the oil spill had on the Gulf's residents, the NRDC and Robert Redford have partnered to present Stories from the Gulf: Living With the Oil Disaster, a 30 minute documentary that is set to air on Planet Green April 23 at 3:00 pm.
Stories From the Gulf
The documentary presented by Robert Redford focuses on how the oil spill has affected residents in the Gulf, including fisherman, shrimpers, restaurant owners, and more. Stories From the Gulf is presented as multiple vignettes of audio interviews and powerful documentary photographs of the people who have been directly affected by the oil spill.
Watch a clip of Stories From the Gulf below:
Recent effects of the Gulf Oil Spill
If you have been following the news, you have undoubtedly heard about dead dolphins, turtles, and other marine life washing onshore of the Gulf with BP oil on their bodies. Not only have the residents and their local businesses been suffering from the effects of the oil spill, the scope of the impact the oil spill is having on marine life is still not determined.
BP's fines for causing the Gulf Oil Spill
Also in the news recently is the announcement that BP's lawyers are looking for a legal loophole to cut the offending party's fines from approximately $18 billion to only a few million dollars. The current expectation is for BP to pay around $4,300 per barrel that was leaked into the water, of which there were over 4 million.
However, because of the wording in the Clean Water Act, BP may only have to pay a fine based on the number of days that oil was leaking (currently estimated at $32,500 per day, for 87 days, which results in less than $3 million). And unfortunately, the fine that BP pays could go to help the affected areas of the oil spill as well as residents of the Gulf, like the ones presented in Stories From the Gulf.
Be sure to tune-in to Planet Green on April 23rd to watch Stories From the Gulf: Living With the Oil Disaster and not forget about the serious effects the oil spill continues to have on our neighbours and our planet.