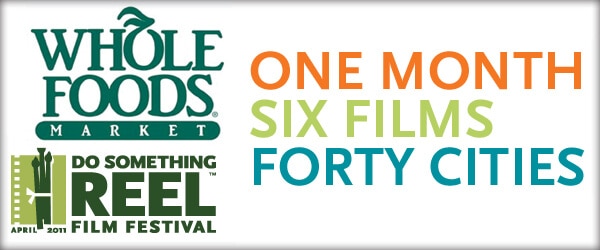 Beginning April 1st, Whole Foods Market will be helping movie-goers go green by traveling to 70 cities across the U.S. and screening six films as part of the "Whole Foods Market Do Something Reel" Film Festival.
Environmentally themed films
It should come as no surprise that the films being played at the festival will focus heavily on food, along with environmental issues. After all, Whole Foods Market is a natural/organic grocery store. But while most environmentalists will be familiar with food-oriented green documentaries like Food Inc. or The World According to Monsanto, the six films being played as part of the Whole Foods Do Something Reel Film Festival will be much lesser known, and instead be more character-driven and show inspiring stories of everyday people making an impact in their communities.
The movies being played at Whole Foods' Do Something Reel Film Festival
Below, find information on all six of the films being played as part of the film festival. Click on any of their titles to visit their official sites and watch trailers for the film.
Bag It!
A film about our plastic bag overuse.
An examination of the school lunch, and what we need to do to change it.
Focusing on Ed Wiley, a former coal miner who is trying to have his granddaughter's school moved away from a toxic waste facility.
Aiming to raise awareness of the benefits of a vegetarian diet – or at least less meat and dairy consumption.
Following the trend of urban farming in the collapsed industrial city of Detroit, Michigan.
Examining "Colony Collapse Disorder" and how the disappearance of bees and an unsustainable food cycle could mean big trouble for the planet. The one I am most looking forward to seeing, for what it's worth
Giving back to the green film community
This year's Do Something Reel Film Festival won't be the last, by the sounds of it. Whole Foods Market will be starting a grant from a portion of all ticket sales which will go towards filmmakers in the green film genre looking to create films about the choices we make as consumers.
Where you can see them
Some films are already playing in theatres, so be sure to check at the films official sites to find out if the one you are looking for is playing in your city prior to April 1st. If not, be sure to visit one of the 70 cities where the environment-inspired Do Something Reel is going to be playing (full list of screening information here). Not just to learn something cool about the food we eat, but also to support the great 'Do Something Reel' initiative started by Whole Foods.