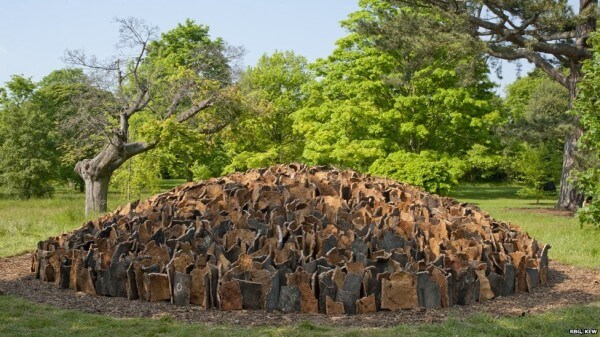 Acclaimed British sculptor and passionate environmentalist, David Nash, has a special exhibit of his new art titled 'New Works' at the Royal Botanic Gardens, located in the outskirts of London that includes gardens, pavilions dating back to the 1800's and historic greenhouses.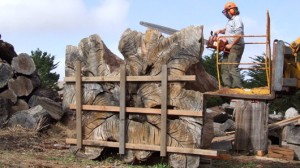 For this special exhibit, Nash, has used trees from the site that have fallen from old age or disease and made art. Nash has used the medium of wood for 40 years and his artistic tools are a chainsaw, axe and fire. He finds his work to be a collaboration "between the artist, his material and the natural world."
This exhibition is a perfect marriage between art and sustainability, as Nash reuses wood that would otherwise have been disposed of. According to the exhibition:
Nash adopts a responsive and adaptable approach to producing his art, allowing nature to dictate the direction that his creations will take. At Kew, this approach reflects the character of the exhibition as a whole – the viewing experience will change and evolve throughout the year, and from visit to visit. This includes the nature of the materials used, the changing seasons that shape and colour Kew Gardens so dramatically, and the display of new work that will be created on site, throughout the course of the exhibition.

Nash's relationship with and ever-growing knowledge of his chosen material – wood –sits in perfect accordance with the conservation work that Kew carries out both in the UK and across the globe. Kew's work with trees involves identifying new species, protecting areas of forest diversity, researching their ancestry, DNA, anatomy and chemistry, and studying the fungi that helps them to grow, and eventually, to decay and be recycled. Through projects such as the Millennium Seed Bank Partnership, Kew can share information, assist in research and in planting new areas of forest, and advise on long term planning.
The exhibition includes sculptures, installations, drawings and film located across the Gardens, glasshouses and pavilions on site, exhibition spaces, or even just hidden amidst the trees. Some of the sculptures are black, since the wood has been charred and then oiled to protect the pieces from insect attacks.
The website shares:
From April to September 2012, Nash worked at Kew on a 'wood quarry', creating new pieces for the exhibition using trees from the Gardens that had come to the end of their natural life.

These new works are on display in the Shirley Sherwood Gallery of Botanical Art, the Wood Quarry as well as a stunning piece in the Nash Conservatory.
If you can't see the exhibit in person, here's a quick sneak peek: