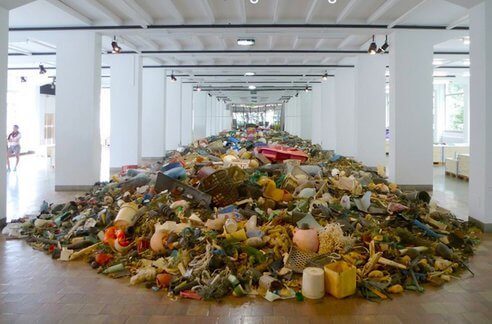 The Great Pacific Garbage Patch—that vast swirling vortex of gum wrappers and milk jugs that threatens the food chain and looms above, beside, below and inside us now to an extent we don't even really know. The patch itself in size is compared to two-times Texas but its more minute impacts on little Nemo in the sea and little Johnny at a sushi bar are still immeasurable. Well, we know it's bad, at least.
Some of our greatest artists have come from turmoil, a place near insanity, torture turned out onto canvas or in a stanza and so it's no wonder that these remnants of ocean trash have now become a medium in the art world, and re-worked into less threatening structures.
15 Seconds of Fame
Zürich's Museum für Gestaltung is hosting an exhibition called "Out to Sea? The Plastic Garbage Project" that puts into perspective the incredible amount of garbage dumped into the ocean every 15 seconds (amount shown above). Read more about the exhibit on Treehugger and the Plastic Garbage Project.
A Boat Named 'Gyre'
In 2010 Maine artist Anna Hepler created the underside of a giant 45×15 foot vessel out of shredded plastic scraps in Portland's Museum of Art. Anna told the local press she wanted to she wanted to convey '"the tenuous feeling of being underneath a massive form floating overhead,"' and included a mess of barnacles, jellyfish and other sea critters twisted into the netting to represent the some 267 species affected by the Patch. Anna was inspired by the earlier voyage of filmmaker David de Rothschild on his plastic boat named Plastiki, to the Patch.
'What Goes Around, Comes Around'
Bonnie Monteleone cruised North Carolina beaches and collected plastic pollution, eventually turning it into a canvas painted with five waves to represent the five ocean gyres. Inspired by the story of the GPGP, Bonnie traveled four times over open sea to investigate and collect, and while on the water she hand-netted objects she picked out of nearly 8,000 nautical miles of the ocean.
Another Man's Treasure
This couple on the Northern California coast have been collecting garbage together since 1999; Richard and Judith Lang call their art a true "love story", told in plastic bottles and discarded pen caps.
"Our love of nature is combined with our interest in science to produce an on-going series of art works about the oceans and the environment. While the content of our work has a message about the spoiling of the natural world by the industrial world, our final intent is aesthetic and celebratory." (Treehugger.com)