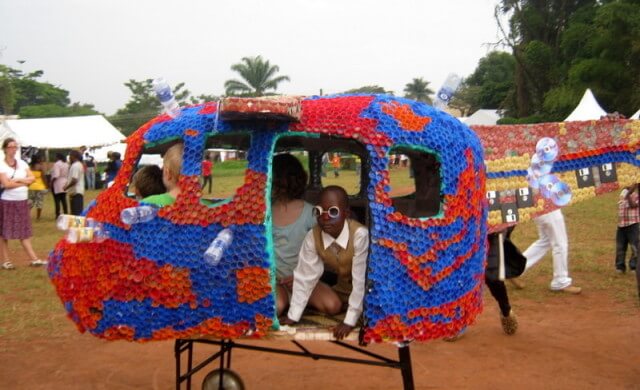 This year marks the first year TED has hosted the City 2.0 Award – a prize designed to help seed 10 projects in cities around the world and encourage innovative ideas. According to TED, "the City 2.0 is about connecting short-term action to long-term vision." The first City 2.0 Award recipient of 2012 at the TEDxSummit in Doha, Qatar is 29-year-old Ugandan eco-artist Ruganzu "Bruno" Tusingwire.
The first of ten winners to come, Tusingwire's winning application involved a pitch of his plan (titled "Recycled Amusement") to create an amusement park for the kids of the slums of Kampala out of thousands of reused plastic water bottles. His goal with his $10,000-prize is to provide a place for the children of the slums to play and learn whilst removing waste. His amusement park will serve as a reminder of the trash problem afflicting the developing cities in the world.
Tusingwire, the founding curator of TEDxKampala, is not just using his prize money to create the recycled amusement park. He has plans to grow his local TEDx community and expand the woman eco-artist loan program that currently supports 15 women to develop their business ideas. Tusingwire, a 2011 Young Achievers award winner, is a lecturer in the Department of Art & Design at Kyambogo University and a graduate of the university as well.
The playground that will soon expand to become an amusement park currently only consists of a single airplane-shaped sculpture. Tusingwire–who hopes to create a safe space for Uganda's poor youth who are struggling with the psychological burdens of war, poverty, and disease – told TED:
"I shifted from doing artwork to just hang on walls, having little influence on society, to doing art that solves community needs. It's helped me realize my value to society. Art is unifying. We can use what is around us to create treasure, employment opportunities, and make the environment better. There is a wonderful world of possibilities before us."
The beauty of Tusingwire's project is that he is tackling several issues with one simple project. First and foremost, the children of Uganda need any help and normalcy they can get. The children live in a country with ongoing ethnic conflict, poverty, lack of accessible education and now, according to CNN, 3,000-some children in Northern Uganda suffer from a mysterious mental illness without a known cure called "nodding disease" that leaves children with epileptic symptoms.
The amusement park will serve as a safe shelter against their day-to-day struggles. Secondly, the amusement park project facilitates a conversation about trash in expanding cities. A conversation that needs to take place given that the United States alone, according to  the U.S. Environmental Protection Agency, accumulates at least 236 million tons per year of municipal solid waste. Lastly, Tusingwire's project recycles plastic bottles and in turn, saves energy and the environment since he is using a material that would otherwise have been discarded.