In recent years, there has been a huge shift towards going "green". Eco lodges promote sustainability and are all about minimizing carbon footprints. Sometimes it's seems as if people are still only just starting to realize how important it is to live a sustainable lifestyle. From organic food to solar power, people are starting to see the importance of going green.
Everyone should make it a point to lessen their carbon footprint, and while it's easier to do at home, you can also take these green ideals with you on an eco-friendly vacation. At an eco lodge, you can expect to enjoy organic whole foods, experience solar powered accommodations or swim in a chlorine-free pool. Imagine taking a break from all the toxins and pollutants you are used to by staying in such a place.
There are a number of excellent and luxurious eco lodges all or the world. You can choose from mountain, island, jungle or desert locations. Immerse in the culture and explore the unaltered environment that surrounds these beautiful resorts. This is just a taste of what eco-tourism is like as it is bound to grow in the near future.
Here are ten of the world's best eco lodges:
1. Anamaya Yoga Retreat Resort, Costa Rica
In Sanskrit, the word "Anamaya" means "well-being". You will really get a sense of this concept once you enter the Anamaya Mind Body And Spirit Resort, which specializes in yoga and surfing retreats, as well as four-week long yoga teacher training. The beautiful lodges offer breathtaking views of the ocean, often cited as the best of any hotel or resort in Costa Rica. In addition, it has a spectacular cliff-edge salt-water swimming pool, its own organic farm, gourmet organic food (with vegetarian, vegan, and gluten free meals available) and is next to a huge three tiered waterfall, Montezuma Falls.  The rooms and cabins were designed with the environment in mind, and resort was built using non-toxic materials.  The rooms are even equipped with comfortable organic bamboo sheets. If you want to experience the perfect getaway in a "green" way, this is definitely the place to be.
Basata is the first eco lodge in Egypt. If you appreciate friendly staff, great service and responsible tourism, this is the right place to be. Experience Sinai in this wonderful and unique place to escape the pressures of modern life. The Sinai landscape was not altered for the construction of the huts in this eco-lodge. All were built using natural and safe materials. Even though water is scarce in this part of the world, Basata manages to make it's own freshwater through their desalination plant, which is pretty impressive. They are big on water conservation and they make it a point to explain to their guests how the water cycle works in their village.
3. Blumau Hot Springs Village, Austria
This village is built over hot springs with the highest mineral content in Europe. The Austrian artist and environmentalist, Friedensreich Hundertwasser, influenced the Blumau Hot Springs Village. Their main philosophy is "im Einklang mit der Natur", which means "in harmony with nature". This can be seen from a distance as all lodges feature fully sustainable green roofs. The amazing compost system in this village allows the waste to run through the rooftops and into the lush gardens. If you want to experience the benefits of green roofs and explore beautiful Styria, this is the place for you.
4. Canopy Tower Ecolodge And Nature Observatory, Panama
Panama is a beautiful place that is full of exotic animals. It is the meeting point for migrating birds that travel between North and South America. This makes the Canopy Tower Ecolodge and Nature Observatory the best place to be if you want to get a peek of the avian life in Panama. This unique eco lodge was originally a U.S. Airforce radar tower, and now it is a 12-room lodge that has a wonderful observation deck. This "green" tower is one that the whole family can enjoy.
5. Daintree Eco Lodge, Australia
The Daintree Eco Lodge and spa is a true rain forest experience. It has been named one of the top eco lodges in the world by The National Geographic Magazine. It is one of the few places where people can interact with Australian Aborigines inside their element. You get to immerse in the local culture, enjoy being pampered in the spa and stay in a nifty tree-house style cabin. If this lodge isn't environmental enough for you or if you are still craving to awe at what this amazing land has to offer, the lodge is only a 40-minute drive from Australia's Great Barrier Reef. This eco lodge is definitely one of the best out there.
6. Kapawi Eco Lodge And Reserve, Ecuador
If you really want to "get away from it all" the Kapawi Eco Lodge And Reserve is just the thing for you. After two plane trips and a canoe ride from Quito, guests arrive at Kapawi where the world's first tribe-run lodges are located. Getting there is half the fun since you get to experience the lush Amazon and spot hundreds of different wildlife species. The Achuars welcome visitors with their manioc beer and open arms. You can even consult with a shaman during your stay. This unique eco lodge is a great way to separate yourself from modern life and the concrete jungle.
Kleins Camp is located smack dab in the middle of a 10 000 hectare wildlife sanctuary. You can get the full Tanzanian safari experience in this gorgeous eco lodge. Get a taste of the savanna life right here in the land of Serengeti. If you've always wanted to go on a safari, this is just the place to be. You'll feel as if you own a beautiful private reserve that overlooks incredible and breathtaking grasslands. This sanctuary is in the middle of the Great Migration path where thousands of zebras and wildebeests pass. This luxury eco lodge will make you feel bad about going home and ending your vacation.
This remote island resort is regarded as one of the most extraordinary eco lodges in the world. It offers ultimate privacy and is perfect for couples who are looking for an eco-friendly romantic getaway. Surrounding this resort are traditional villages that have remained the same over the centuries. Thanks to the resort, the villagers have access to clean water and health clinics. The place is known for being the world's first coconut-biodiesel-fueled resort. This surf and yoga heaven attracts pro riders from all over the world. If you want a totally amazing island experience, Nihiwatu is the place to go.
This private and exclusive resort is a blissfully development-free eco lodge. The owners of this resort wanted to preserve the area and keep it pristine. That's why Tiamo Resort is tucked away in the jungle area of South Andros Island. It is surrounded with solar panels which account for most of the resort's power. You get the best of the Bahamas in this private slice of paradise as it is only accessible by seaplane or boat. Tiamo Resort is the perfect place to go if you want to indulge yourself in a tropical nirvana.
10. Tiger Mountain Pokhara Lodge, Nepal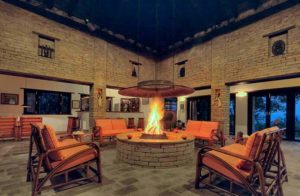 This eco lodge sits right above the Pokhara Valley with a beautiful Himalayan backdrop. This place might look like your ordinary crash pad for hikers, but it has an eco-friendly and lush twist to it. The lodge is perfect for those who want to explore the Nepali landscape and get a taste of the culture. The bungalows are made of stone and are hand-cut. Staff members deliver fresh organic coffee to guests each morning. You can enjoy hiking the foothills during the day and relax at night with an invigorating private yoga session. Or, you can just sit by your private veranda and gaze at the majestic view.
Eco-tourism is growing in popularity because of raised awareness, and the green travel niche is expanding rapidly. Eco lodges, yoga retreat centers, "voluntourism", and many other options abound. Guests can feel rewarded by supporting sustainable eco lodge options since many of them donate a part of their profits towards local conservation, community building, and other charitable programs. So, you can make a valuable contribution by just taking a break and going on a vacation!