Artists around the world are taking the slogan "go green" to a whole new level by making artistic masterpieces out of recycled paper. Using anything from newspapers to books, as well as varying colour types; these artists know no limits for what they can make out of old discarded paper.
Recycled Sculptures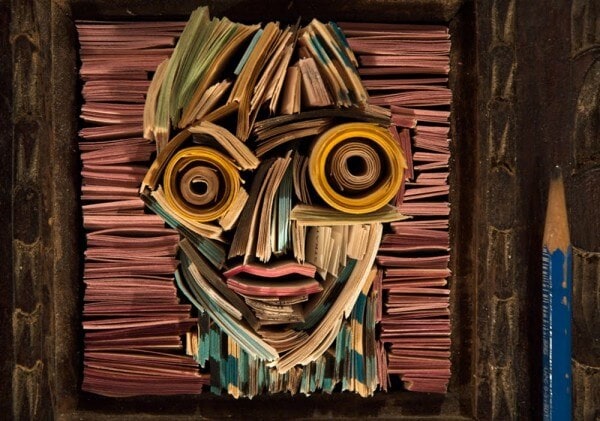 Nick Georgiou uses print materials and turns them into sculptures and art pieces. He collects old newspapers, magazines and books from the local area he lives in to use for his artwork. Much of Nick's work possesses a zany quality and, whereas many other artists who sculpt with paper will mesh it into their desired shape, Georgiou instead uses paper like bricks; setting them up layer upon layer.
Bookguns
Robert The uses discarded books to create an array of sculptures. His art always ensures that people notice how the base materials are reused and understand the importance of recycling.
Papercraft Guns
A group of Chinese artists have used recycled paper in their own brand of protest art, by making life sized gun replicas from recycled paper. These pieces were created out of recycled materials as a response to the war on pollution. From a distance they look strikingly real. Look closer at the one in the middle and you'll notice the small gun is identical to the one used in the film, Men in Black.
Frabjous
Professor George W. Hart used recycled cardboard to make this highly complex, yet stunning 3D sculpture, which is derived from the puzzle called Frabjous. He made this sculpture using recycled cardboard, tape, a knife and some glue and transformed it into a stunning masterpiece.
Folding Light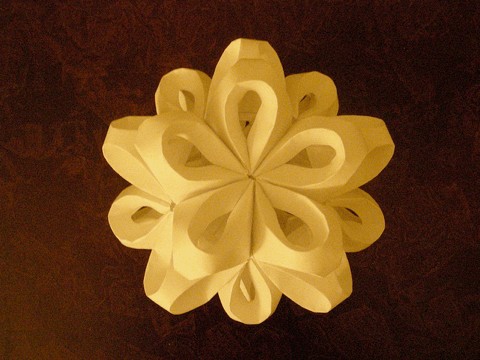 Richard Sweeney makes innovative and kaleidoscopic sculptures from recycled paper. Similar to the above example, his sculptures are hugely complex, whilst being elegant and wholly intricate.
Recycled Rover
This decorative dog sculpture, lovingly named Recycled Rover, will add style to any room and is made from recycled newspaper, which was tightly woven after being corded. This is simply a magnificent example of artwork which you would never believe was made from newspapers. Also makes a great cat scratcher too!
Typewriter
Jennifer Collier is an art gallery owner from Stafford in England who uses various types of recycled paper to make realistic sculptures, which you'd be forgiven for thinking you could actually use. The sculptures which include typewriters, sewing machines and teacups, among many other things, and are made using old newspapers and paper, which are easily recognisable.
Room
Don Lucho from Chile has taken recycled paper and cardboard and turned them into realistic 3D sculptures including aircrafts, crashed vehicles and even the inside of homes. This artist pays careful attention to detail and his sculptures are so life like they have to be seen to be believed.
Origami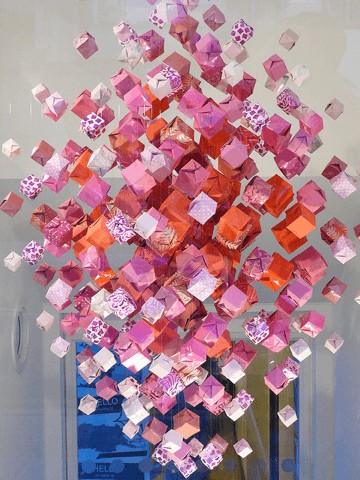 Jacqui Symons uses discarded newspapers and magazines to make interesting concept pieces, such as this recycled paper origami chandelier, which is a beautiful, organised cluster of origami boxes made out of old magazines.
Giant Ghosts
Paul Hayes uses recycled paper for all his interesting and massively epic sculptures. In this piece, he creates paper installation art with recycled falling paper leaves spiralling down off tree branches which you can walk through. He is also the artist that completed the recycled paper sculpture, Giant Ghosts, which was exhibited in San Francisco.
Each of these artists have something in common over and above their obvious artistic talent; they all use recycled paper as a statement on the importance of sustainability and reusing materials. The art is not only beautiful and interesting, but it's inspirational to see that artists who care about the environment have found ways to help the planet and reduce waste.