Forget Real Housewives—the real story is that for the 3rd year in a row the real life wife of actor Colin Firth is bringing together top designers and celebrities in an annual ecological challenge that brings green fashion to the red carpet.
GCC (Green Carpet Challenge) is the collaborative effort between Livia Firth and Vogue UK that brings forth an outward challenge to the fashion industry to adopt more sustainable and environmentally-friendly practices—and in 2012 sees the likes of Giorgio Armani, Chanel, Alberta Ferretti, Tom Ford, Gucci, Yves Saint Laurent, Stella McCartney, Paul Smith, Valentino, Roger Vivier and Ermenegildo Zegna designing glam garments with recycled or organic materials to demonstrate their commitment.
The challenge jumped off at the Golden Globes last month, which Livia attended on the arm of her man rocking an Armani dress made from recycled bottles, and will continue throughout 2012 as green designs appear on yet-to-be-named celebs at the year's biggest events. Livia also recently attended Paris Couture Fashion Week, where she met with the world's top designers to talk shop—all of them in great support of her eco-initiative (even Lagerfeld).
"I'm extremely thrilled that Livia wanted to involve me in such an ambitious project. Creating feminine, glamorous, yet eco-friendly clothes is a challenge that stimulates my creativity. I believe that fashion is a strong way of communication that can support such an actual and contemporary cause," –Giorgio Armani, Eco-Age.com
Among impressive GCC designs from the past is the Gary Harvey gown that upcycled 11 reclaimed dresses into one garment, which Livia donned at the Academy Awards last year (and paired with beautiful fair trade gold jewelry by designer Anna Loucha).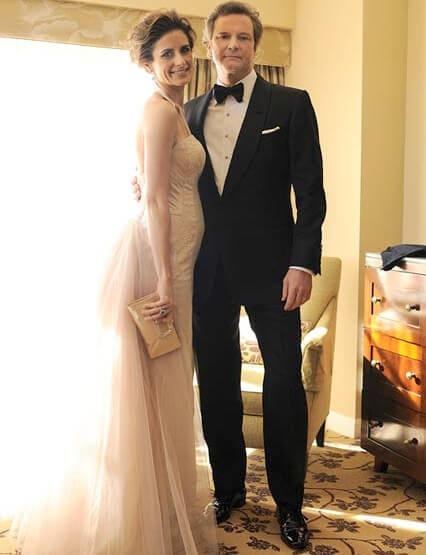 The point of the GCC is to both change the habits of one of the most damaging and wasteful industries on the planet, and to dispel myths about sustainable style and its reaches.
"Not a hint of hemp insight! And with that we made our point – aesthetics are not compromised, but a conversation is created!" Eco-Age reported on Livia's Armani bottle dress. (Check out behind-the-scenes photos of the fitting on their site!)
Vogue Italy's Editor-In-Chief Franca Sozzani is a heavy supporter of the Green Carpet Challenge initiative, stating this on her personal blog:
"The respect and care for the environment, sustainability and fair trade nowadays are features that cannot be separated from the fashion world, or at least, from those who wish to preserve also the ethic, and not just aesthetic, side of fashion."
Check out the Green Carpet Challenge 2012 here.