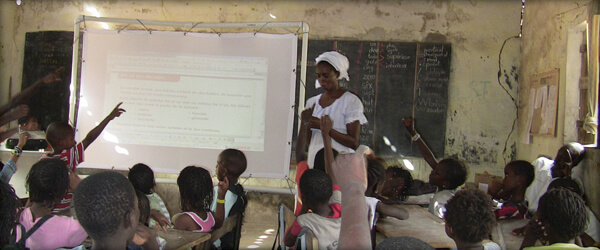 Learning Off The Grid
We may take for granted that North American schoolchildren can learn using all of the best technology the 21st Century has to offer, but many rural classrooms – especially those in Africa – don't even have electricity to power a projection screen. But all of that is about to change thanks to a company called CyberSmart Africa and a grant from the US Agency for International Development (USAID).
Solar Energy Brings Better Education
Thanks to the solar-powered interactive whiteboard solution provided by CyberSmart and the USAID, rural schools in Africa, such as Ecole Sinthiou Mbadane in Senegal (pictured above), will have access to modern technology to help educate their classrooms. In the coming weeks, CyberSmart plans to work with teachers in these communities to develop appropriate content for their classrooms, but with a modern technological twist that will make use of all of the whiteboard's interactive features.
Check it Out!
Interested to see how the solar-powered whiteboard works? Watch the video below, and leave your comments on this great initiative in the comments section below.