When we hear something is for free, the most natural reaction is to find the fine print. Com one, nothing's ever free. Right? Especially in the case where the cost of providing water, heat and hydro for your home is continually rising. Fortunately, a solar company by the name of Free-Light is trying to do just that, or get pretty close to free. With a recipe like, 'No wires, just add sun', the makings of something good, affordable and ecologically functional aren't far behind.
Meet David Aggerhol, founder and owner off Free-Light, a small company based in Burlington, ON that designs multiple outdoor solar lighting products, that look to revolutionize the solar industry. Founded nine years ago by owner, Free-Light has been making some big waves for solar rays.
"All of our products are consumer based products," says Aggerhol. "We made a decision that we wanted to try and attack the consumer market for solar products. I mean, let's face it , solar has had a pretty bad name for certainly the last 5-6 years. In the beginning it was a novelty for people. The big box stores tried to make it mainstream. Tried to make bigger, better products for more money. These days, the only thing I can really agree on with people about solar, is how angry customers are about their solar experience. "
Aggerhol's products feature a very simple, old engineered technology that has been enhanced to not only bring you light for days off of a single charge, light up a radius of sixty feet, visible for up to 400 yards.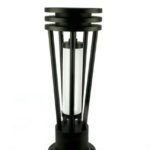 "We offer more light out of a single fixture than any other company in the world. And we offer a technologically advanced product that I'm very confident in, and it's something that people won't have to touch in four years of taking it out of the box. Then what? Is it garbage? No, you just replace the battery and get another four years of not having to worry about it. Instead of having 20-30 little solar lights planted around the yard, you can to the same thing with 5-6 of our patio lights. In terms of lighting for decks, docks, and patios, I can do it with one light. This is the part where it's all about education, teaching people what you can do, with less."
The concept is simple; unpack it, install it, and leave it for a few years before it needs your attention. Its so simple and efficient it's almost ludicrous, but it hasn't been the most illuminated path to success for Free-Light.
"At our shows we continually hear people walk by and say, 'Oh its solar, don't worry about it, it doesn't work,'" says Aggerhol. "And when I chase people down, and try and ask them about it or show free-lights products and concepts they say, ' well this isn't solar, there's too much light'. Well actually it is. "
"If you want the same watt output of a 150watt bulb I can give you that if you want to pay for it," states Aggerhol. "If you spend thirty dollars to buy four to five solar lights, that last you one season, why are you complaining? For that price you're lucky it even turns on, let alone be so functional. "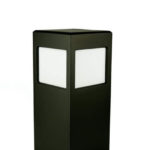 According to National Resources Canada, from 2008-2011, Canada's solar photovoltaic (PV) capacity reached a peak of 495 Megawatts of electricity converted from solar energy. Compared to Canada's total annual electrical consumption at 536, 000, 000, 000 KW/h, solar lighting is lagging behind in the energy race. But, thanks to individuals David Aggerhol and companies like Free-Light, there is hope yet.
"You have to grow, " says Aggerhol. "And the product has to grow along with you, and with the experiences you have. What I've struggled with is trying to get the education and information part of free-light and solar lighting across to other people. It's just shocking how much bad information people possess about solar lights. It's not just the people that are misinformed about solar lighting it's the stores, distributors, consumers. The whole understanding of the industry is so misunderstood it's unbelievable. That's where we come in."