The concept of solar power has been around for some time, but it's never been considered a practical means for satisfying the world's energy needs. But as better methods for capturing and converting the sun's rays into usable energy are developed, solar power is becoming widely adopted across many countries. Here's a look at a few countries making the most use of solar power.
Germany: The World Leader in Solar Energy
Germany is considered the world leader in solar energy, as the country currently uses vastly more solar power than any other country. In fact, in 2009, Germany installed 3,806 megawatts of solar energy capacity—nearly eight times the amount installed by the U.S. in the same year. In 2010, Germany remained the leader of the pack, installing even more solar energy capacity—17,193 megawatts, or 43 percent of the world's total installation for the year.
Germany maintains a strong commitment to using renewable energy sources. The country has a hefty goal of converting entirely to renewable energy sources by the year 2050.
Spain: Once the World Leader, Now Second in Line
Spain is also demonstrating its commitment to alternative energy sources, although it doesn't come close to the same amount of solar energy capacity installed by Germany in recent years. In 2008, however, Spain led the pack by installing 2,605 megawatts but this figure dropped dramatically to just 69 megawatts in 2009.
There are a couple of reasons for Spain's significant decrease in solar energy capacity installation. First, the economic crisis led to a decrease in energy demand. Spain also experienced some delays thanks to a complex government subsidy program. In 2010, Spain maintained approximately 10 percent of global installed capacity share. About 10 percent of the country's energy comes from solar power, two percent higher than the average for most countries.
Italy: Closing in on Spain
While Spain once lost its first place spot in solar energy installation, Italy is now closing in on Spain for second place in the solar energy race. Currently, nine percent of Italy's energy comes from solar power, recently surpassing Japan to take over third place. At the end of 2010, Italy had 2.3 gigawatts of solar energy connected to the power grid.
Japan: Still Holding Strong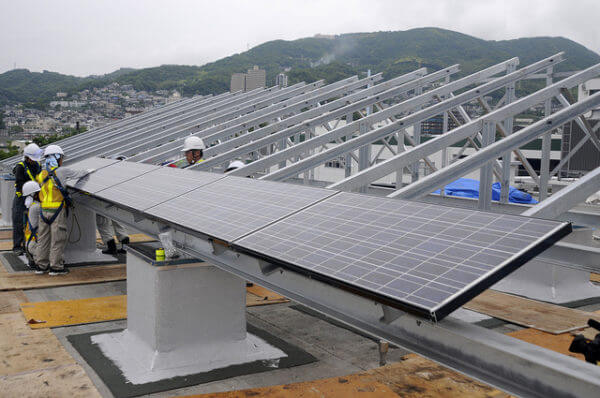 Estimates show that Japan has a strong future in solar energy, thanks to a high level of consumer interest in renewable energy—particularly, solar power. In 2010, Japan installed 990 megawatts of solar energy capacity. But in March 2011, the Fukushima disaster halted the country's progress.
The Fukushima disaster was a chain of events that began with an earthquake and caused a nearly 50-foot tsunami. The tsunami disabled the power supply and cooled three Fukushima Daiichi reactors, practically melting all three cores within three days. Naturally, this devastating event threw a wrench into the country's energy plans.
United States: High Energy Costs Drive Consumer Interest
While the U.S. hasn't been a leader in solar energy consumption or capacity installation in recent years, that could soon change. That's because the country's economic crisis is driving consumer interest in renewable energy sources, which are both environmentally friendly and cost-effective over the long-term outlook.
The U.S. has a couple of things going for it in terms of solar energy. First, the cap on the federal solar tax credit was lifted in 2009, opening the door for potential savings from Uncle Sam. And the market for residential solar panels is still showing strong growth, in spite of the country's fragile economic state and recent recession. In fact, the market for residential solar panels increased 37 percent between 2008 and 2009, and doubled in the year 2009 alone.
Currently, solar energy comprises only one percent of the country's total energy consumption. California maintains about 60 percent of the U.S.'s total solar energy installations, but states such as New Jersey are rapidly catching up thanks to state-level incentives driving interest.
Czech Republic: Out of Nowhere Interest in Solar Power
Solar energy is rapidly growing in popularity in the Czech Republic. Despite the economic struggles facing many countries throughout the world, the Czech Republic actually has one of the strongest economies in today's market. The pace of the country's solar power installation has been holding steady and increasing since 2007.
Interestingly, one of the challenges faced by the Czech Republic with solar energy is that there's not as much sun as in countries such as Spain and Italy. However, the cost of buying land in the Czech Republic is cheaper, which offsets the lack of ample sunshine.
When you look at the statistics another way, the Czech Republic's use of solar energy becomes even more intriguing. The country installed more solar energy capacity per capita in 2009 than any other country—with the exception of the top solar-power player, Germany.
Belgium: Unexpected Incentives Prompt Solar Energy Growth
Belgium's growth in the solar energy department came as a bit of a surprise around 2009. The country's growth in solar energy installation was due in part to a national tax rebate program for residential solar power installations. This resulted in the installation of about 800 megawatts in solar energy capacity in 2010.
Estimates say Belgium's solar energy use should maintain a slow but steady growth. Belgium is expected to install approximately 200 to 300 megawatts of solar energy capacity per year. Among European countries, Belgium is the only one that successfully utilizes Green Certificates, a tool which encourages the use of environmentally friendly energy alternatives. Belgium also participated in the European Solar Solidarity initiative, which raised awareness for solar energy with innovative, dancing solar flower exhibits.
With solar energy capacity increasing all over the world, consumers can expect to see a broader range of options among solar panels for home use. Solar panels and other mechanisms for capturing the sun's energy are becoming more efficient and more readily available to consumers as an affordable and environmentally friendly alternative to traditional power sources, such as electricity.