It turns out that Jen is a real 'Friend' to the animals too.
The sitcom-turned-RomCom actress recently purchased a new Hollywood home that, to her surprise, came equipped with a fully stocked chicken coop. Rather than plow it over with an Olympic-sized swimming pool or some other form of luxury, Aniston decided to live in harmony with the chickens—and is cluckin' with appreciation for the creatures.
"They're very social animals, and they like it when you visit them with a cup of coffee in your hand."
The battle for backyard chickens is one that Canadian and U.S. citizens have been contending for some time, with varying degrees of success according to region. Reese Witherspoon, Hilary Swank, Martha Stewart and Chevy Chase also reportedly maintain (have groundspeople to maintain) personal coops on their properties.
Aniston's $21 million Bel Air property in Los Angeles includes the coop and an 8,500-square-foot mansion. LA regulations allow up to four chickens per property.
On Backyard Chickens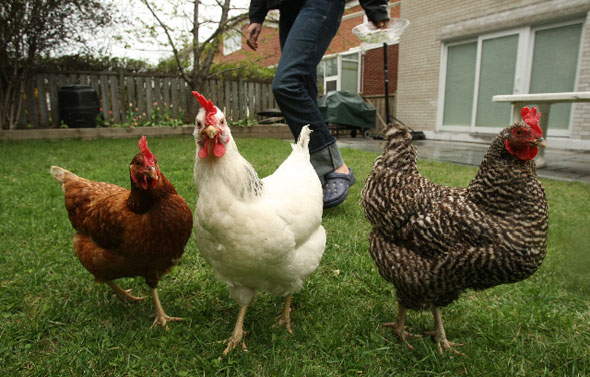 A recent Macleans article "Running a Fowl of the Constitution" estimates that Calgary alone has 300 urban coops in operation, and quotes a resident of one of the city's suburbs –illegally operating a coop of 5 heritage hens—on the bylaw that prevents his legal ownership of the animals:
"[The bylaw is] against my rights. I'm growing food, I can do that any way I want, it's my backyard. I'm not infringing on anyone's rights. [If anything] I've got more dog poo in my front lawn [from neighbours' dogs] than there is chicken poo in their yards."
Calgary and Winnipeg join Toronto in the standoff against backyard chickens; meanwhile Canadian cities Vancouver, Victoria and Guelph legally allow residents to own chickens in urban areas.