There's no denying it, the American workforce has evolved to a point where they no longer view work purely as a way to collect a paycheck. With jobs having become an integral part of our lifestyle, many employees are turning their focus inward, toward company goals and objectives.
Modern employees want to feel that their work matters and they're keen to work with companies they feel can make a difference.
While there are many ways companies can choose to be socially conscious, the sustainability initiative has been a particularly popular choice. Not only does it work toward protecting our planet, it also plays a pivotal role in employee engagement.
What Effect Does Sustainability Have on Engagement?
Did you know that employees are more likely to be engaged when working for eco-friendly organizations? Environmental and socially responsible companies are a major draw to employees looking to do more than simply punch the clock. Let's look at the statistics:
Employees want your company to establish and carry out sustainable initiatives. In turn, these initiatives will motivate and inspire them.
They'll develop a deeper sense of belonging, drive, dedication, and purpose. They'll take pride in their work and their organization — which translates into commitment to their employer, stronger work ethic, and recommendations to both potential employees and customers.
How to Engage Your Employees While Going Green
Despite a majority of employees supporting social responsibility, changing the attitudes and behaviors within your company can be particularly challenging — especially when trying to put environmental initiatives into effect.
Too often, employees view environmental programs as further additions to an already over-full workload. No matter how sensible the changes are, they are frequently misjudged as being unnecessary, and subsequently met with resistance from staff.
Key to managing staff
The key to engaging employees in your sustainability initiative is to communicate both the need for action and the difference they can make.
While some employees may be very well versed in sustainability (and thereby recognize the impact of their daily actions), others may not believe that their actions have an substantial impact on the environment.
Even if they do understand, they may continue to act in a way that has a negative effect on the environment simply because they're in the habit of doing things in a certain way. That's why it's so incredibly important that you make these initiatives seem relatable.
Start by sharing statistics that mean something, statistics they can relate to their daily actions at work. For instance:
Appeal to your employees' sense as you share your vision on sustainability with them. Convey the permanence of this move by updating your corporate values to include environmental goals, as well as by creating new policies and codes of conduct to support them.
Indicate the importance of your sustainability initiative by putting senior executives in charge of company-wide environmental committees.
Populate these committees with employees (of varying seniority) who are already passionate about environmental causes, and encourage them to start projects and brainstorm new ways to bring the company to a higher level of sustainability.
Motivate employees to commit to the strategy by rewarding the behaviors needed to support sustainability and celebrate accomplishments.
You can engage your entire staff, build employee morale, and present sustainability in an upbeat context by adding an element of friendly competition to the initiative. This level of engagement can also be achieved through incentive-based programs wherein sustainability goals are tied to employee bonuses.
Whatever you ultimately decide on, be sure to involve your entire workforce. By making everyone an integral part of the team, you'll have a positive impact on the way employees perceive you, your company, and your goals.
Added Benefits of an Eco-Friendly Office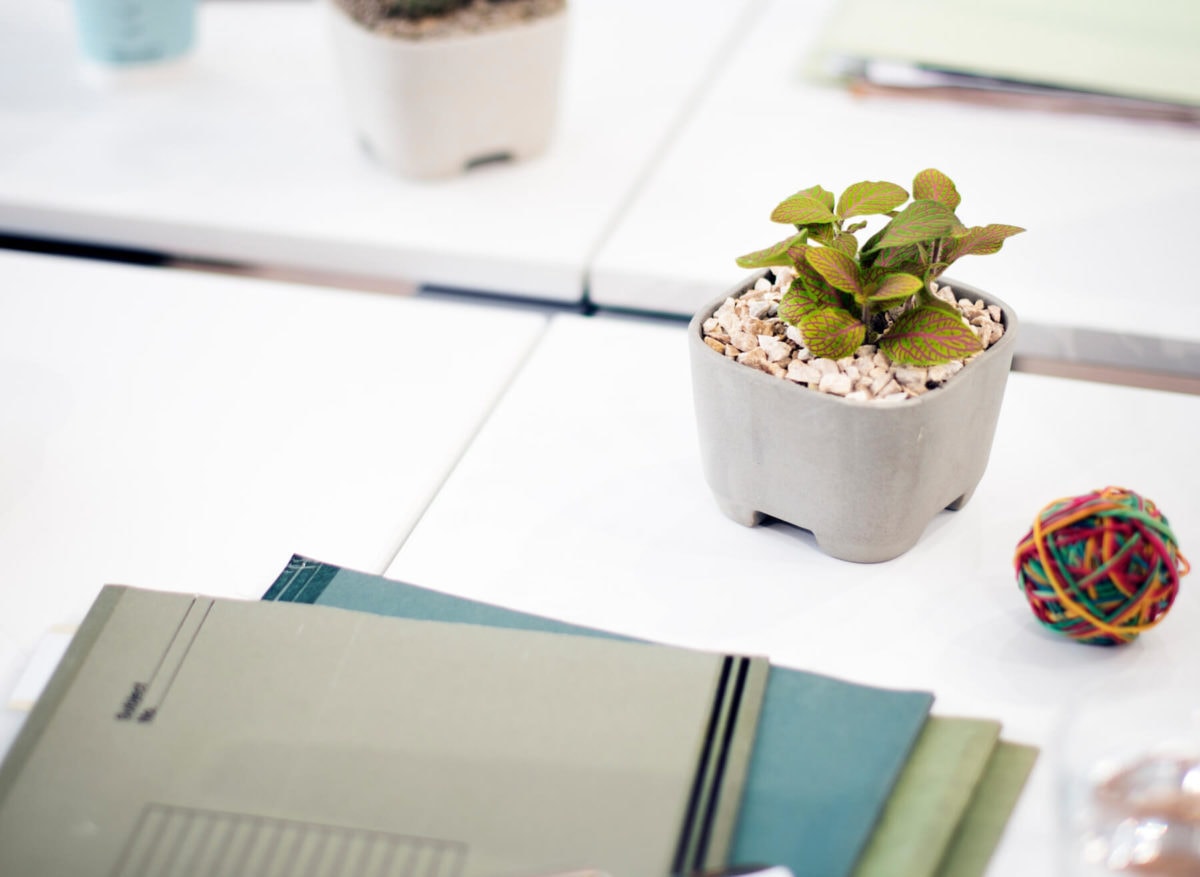 Protecting the environment and increasing employee engagement aren't the only benefits to be had when working towards sustainability. Simply put, companies devoted to sustainability outperform their less sustainable peers. Studies show that these forerunners of sustainability have higher, faster growing stock value and better financial results. Reasons why include:
Consumers prefer them: Companies that advertise their environmentally friendly initiatives attract like-minded consumers. According to Nielsen,

55% of consumers worldwide

would pay more for products offered by Eco-friendly and socially responsible companies.
They have lower overhead costs: Companies that focus on reducing energy, water, and paper consumption cut overhead expenses significantly.
They receive tax credits: Companies who "go green" receive tax credits and breaks from the federal government, increasing their net profits.
Kermit once said that it's not easy being green. While it's true that implementing a sustainability initiative in your company takes hard work and dedication, the significant impact it has on employee engagement — and the environment — makes it well worth the effort.