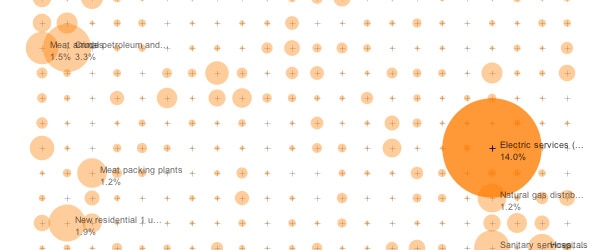 A new online tool has just launched that will allow anyone to easily track the environmental impacts of the US industrial economy, and it has big potential to encourage more businesses to go green.
How the Economy Map works
The Economy Map tracks the impact of many different categories, including Global Warming Potential, Ozone Depletion Potential, Human Toxicity Potential, and much more. Once a category is selected, the map displays information on the factors that have direct impacts, intermediate impacts, and final consumption impacts.
As an example, when you select Marine Sediment Ecotoxicity Potential direct impacts, you are presented with a visual representation in either graph, cloud, or chart form and the result: "These 20 sectors contribute 80.4% of all Marine Sediment Ecotoxicity Potential Direct Impacts across the entire U.S. economy." You can then see the proportional impact each sector has on the category. In this case, paper and paperboard mills have the most significant impact.
If you visit www.economymap.org you can use the map for yourself.
The Economy Map in 60 seconds
For a brief introduction to the map from Economy Map's creator, Jason Pearson, formerly the President/CEO of GreenBlue, a non-profit focused on making industry more sustainable.
Helping businesses go green
The economy map can help businesses go green by better presenting data about where the environmental impact of their industry is taking place. While many business owners may have access to the data that is used to build the economy map, seeing a comprehensive visual representation makes the data far easier to digest, and much more accessible.
Be sure to check out the www.economymap.org, and leave your thoughts on the new online tool in the replies.