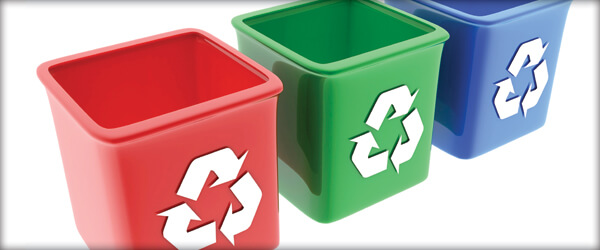 With Earth Day quickly approaching, many people have begun to ask themselves what small differences they can make in their lives to reduce their environmental footprint. One of the easiest places to make small changes is in your workplace. Whether you are a business owner, or an employee, green business practices can make a big difference for the environment. Keep reading for the Top 5 ways businesses can go green.
1. Spread Recycling Awareness
It's as simple as posting a few signs around newly placed blue bins. Maybe some of your co-workers aren't even aware that some of the stuff they're throwing away could be dropped in a blue box? A simple sign letting them know that pop cans, magazines, and plastic bottles can all be recycled might encourage them to make a change in their habits.
2. Get a Waste Audit and Cut Costs
For business-owners who have high costs associated with monthly waste disposal, be sure to get a waste audit from a professional organization (in Canada, consider Waste Solutions). Most of the time the audit will find ways for you go green by reducing waste and save money, and if you work with the right team you will not end up paying anything – only saving.
3. Reduced Printing and Paper Usage
Many people put comments in their email signatures reminding their recipients that printing may not be necessary – and we should all remember that. In some cases, it is unavoidable, but if you can you should attempt to reduce the amount of paper and ink you're consuming. This will also help when it comes time to replace and recycle ink and toner cartridges.
4. Be Energy Efficient with Electronics
There are a lot of people who leave their computer on all night, thinking it saves them time when booting up in the morning. The fact of the matter is, it's bad for the computer in the long-run, and it's terrible for wasting energy every night. To take action against this problem, consider sending an email to your co-workers suggesting they turn off (or put to sleep) their computers, printers, photocopiers, and other electronics before they leave for the night.
5. Go Green (Literally) with some Plants
This is the easiest way of all to make your business a bit greener. In addition to brightening up the office space, plants have been scientifically proven to decrease stress, increase productivity, improve attitudes, and of course improve air quality. What more could you ask for?
Whether you're a business owner or an employee, take some time leading up to Earth Day 2011 to think about how you can make a difference in your workplace, and help get your business to go green.