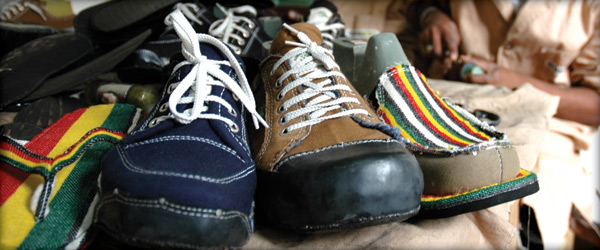 soleRebels, the innovative Ethiopian shoe company that is the world's first producer of Fair-Trade footwear, has recently announced a partnership with Europe's Spartoo.com. Spartoo.com is a web-based fashion outlet that specializes in footwear of all types, from high-fashion to Goth to sport shoes. Spartoo is the largest online retailer of shoes in Europe, and plays a significant role in supplying many conventional stores as well.
soleRebels line of fair-trade footwear utilizes traditional fabrics, made from local, sustainable materials like jute, cotton, and hemp, along with recycled tire rubber for the soles of the shoes. It is locally-owned and operated, and employs over 200 people, directly and through its supply line, in the region of Addis-Ababa, in Ethiopia. The ethic behind soleRebels is to produce for direct trade. They make the shoes, market them, and do as much of the work as possible themselves to maximize the direct benefit to their community.
By combining this sustainable development approach with the market access enjoyed by Spartoo.com, soleRebels can vastly expand its sales, and in the process, provide more work, and higher wages for the local artisans and suppliers.  SoleRebels pays four times the local minimum wage, and double what the average factory worker in Ethiopia can make. Couple that with free health care for the workers and their families, and soleRebels is providing a clear model for how communities can advance themselves on the world stage in a sustainable fashion.
This partnership will help move soleRebels and the community it supports towards a brighter future, and this future is one they are charting for themselves.
Photo by Xan Rice