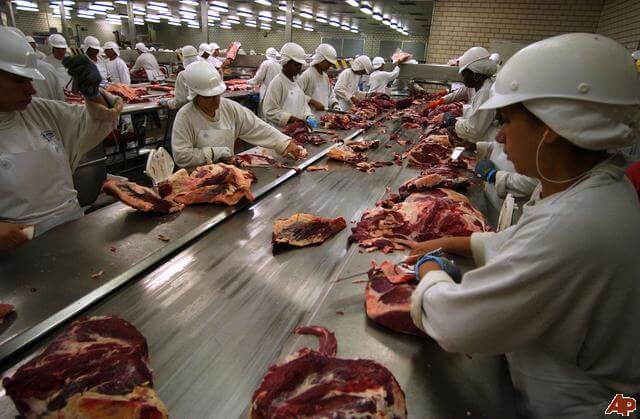 The world's largest meat company says it has withdrawn a lawsuit against environmental activist group Greenpeace and renewed a promise not to purchase cattle from restricted areas in Brazil.
According to Reuters, Greenpeace is in fresh discussions with food processing company JBS SA. The Brazilian firm recently published an independent audit of its cattle purcases in the Amazon region, which seems to have ended a six-month dispute over cattle supplies.
In June, Greenpeace accused JBS of purchasing cattle raised on the reserves for indigenous peoples. Reuters reports that Greenpeace believes the company was breaking an accord that Brazilian meat packers had signed in 2009. Under the agreement, Brazil had promised not to purchase cattle raised on illegally deforested lands, farms convicted of using slave labor or other restricted areas.
Meanwhile, Greenpeace reportedly said two other big beef processors, Marfrig and Minerva, had no problems proving the proper origins of their cattle.
JBS then reacted by announcing that it was suing Greenpeace for what it called false claims that would cause it to lose business.
But in a company statement released Wednesday, the president of JBS for the Mercosur trade block said JBS and Greenpeace had arrived at "a new stage" in joint efforts to remove deforestation from cattle supply chains.
Reuters reports that JBS has agreed that by 2014 all of its cattle purchases in the Amazon biome will be checked with deforestation monitoring efforts.
Observers say Brazil had made great process in slowing the pace of deforestation. The company recently passed a new land use law designed to protect forests and encourage replanting. However, Reuters reports that pressure for land from farmers and ranchers remains one of the main forces driving clearcutting.