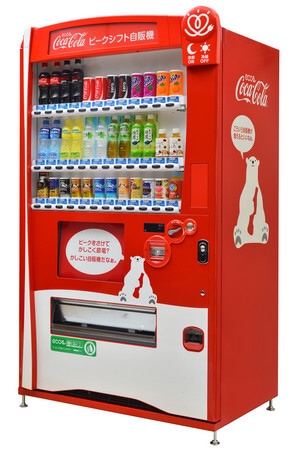 To commemorate its 50th year since introducing vending machines onto the market, Coca-Cola Japan has introduced the "peak shift vending machines" on November 19. It has been estimated that from January to December 2013, more than 25,000 units will be installed courtesy of a 10 billion yen in related investment. This innovative vending machine will "shift the use of power for cooling from the general daytime "peak demand period" to nighttime, when relatively less strain is placed on power supply."
"The history of vending machines at Coca-Cola Japan is a history of revolutionary innovation," said Tomoya Otani, Director of Vending Strategy & Solution Development, Franchise Operations & Commercial Leadership. "With the three features of being quiet during the daytime, being able to dispense cool products for a maximum of 16 hours even when the compressor has been switched off, and greatly reducing power consumption throughout the year, these peak shift vending machines are set to completely change how people think about vending machines. These revolutionary vending machines can be seen as creating new history."
In a press release, Coca Cola explains the logistics behind the machine:
In summer, these machines can provide cooled products for 16 hours while reducing daytime power consumption by 95%. Power consumption is also reduced in winter by 20% compared to current vending machines and, combined with power consumed for cooling, these vending machines are a global forerunner that can reduce power consumption by 68%."

Peak shift vending machines" are a world-pioneering, innovative new type of vending machine jointly developed by Coca-Cola Japan and Fuji Electric. In line for full-scale introduction onto the market and in addition to experiments conducted in research laboratories, field testing was conducted over two months from July 2012. Results verified that if cooling was conducted at night, when there is relatively little power consumption, and turned off during the day, then cold products could be sold for a maximum of 16 hours, reducing daytime power consumption by 95%.

By means of the (1) cooling of all products, (2) more effective insulation, and (3) increased airtightness, peak shift vending machines have made peak shift technology a reality. The technology "shifts" power use for cooling from the general daytime "peak demand period" to nighttime, when relatively less strain is placed on power supply. The time required to cool products filled at room temperature has been reduced by approximately 25% compared to conventional vending machines, making it possible to cool products.
"Coca-Cola Japan has continually developed its vending machines over the past 50 years in pursuit of greater consumer convenience," said Tim Brett, Executive Vice President, General Manager, Franchise Operations & Commercial Leadership. "After the earthquake disaster last year, the need to reduce energy consumption has increased and we take our responsibility as market leader very seriously."
"With these peak shift vending machines, we have realized environmentally friendly innovation," adds Brett. "These could be called the most revolutionary vending machines in the past 50 years of vending machine history. Vending machines have evolved in many ways over the past 50 years, but peak shift vending machines are a breakthrough in the true sense of the word and I am sure that they are the most important innovation yet."