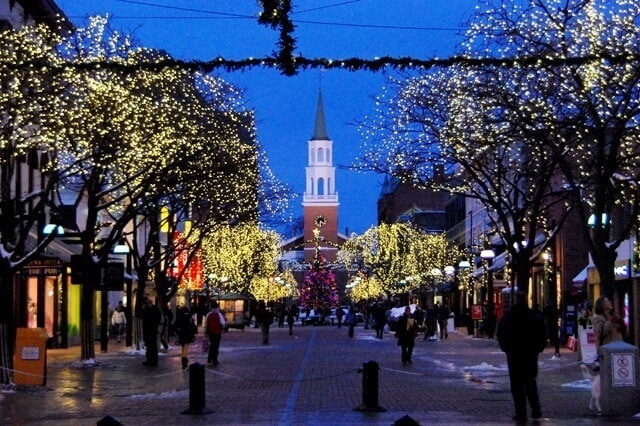 The Winooski River, winding its way past Burlington, VT, flows through an 870 acre floodplain that humans have cultivated for thousands of years.
After a period of decline, the area saw new life with the creation of the Intervale Center. For over 20 years, Intervale has been strengthening community food systems through integrated food production.
The park incubates new farms. It provides business and market development to farmers. It promotes agricultural land stewardship, and conducts food systems research and consulting.
But at its heart, the Intervale Center is about celebrating sustainably produced food and the farmers who grow it.
It's an example of an eco-industrial park (EIP), which at its most basic, involves an exchange between firms of their excess energy and materials. Waste from one firm becomes an input to another. Participants seek to improve their bottom line while lessening environmental impact.
At Intervale, waste heat from a 50 megawatt biomass plant that burns wood chips and harvest residues warms a complex of greenhouses.  There's a brewery onsite and, of course, a number of commercial farms. Locals farm their own plots at a community garden.
At the composting facility, Burlington's yard and food wastes, mixed with wastewater from the Ben & Jerry's ice cream plant, turns into piles of fertilizer. City gardeners, landscapers and Intervale's own farmers fertilize their gardens and fields with the rich compost. By composting, the county saves itself hundreds of thousands of dollars a year in landfill costs.
When a compost site is filled, another is created. The previous site has become a subscription farm where hundreds of residents from Burlington, having paid a subscription fee, make a weekly trip to the farm to pick up a bag of vegetables.
But along with reusing waste materials, Intervale takes the EIP concept further through its mission to create a community food system. By integrating food production, processing, distribution and consumption, the park seeks to enhance the surrounding community's social and economic well being while stewarding the environment and improving nutritional health.
Like any successful EIP, the Intervale Center works with the community to ensure its activities support local ecology and equitable economic development.
The park is the product of discussions between citizens and city officials who recognized that an eco-park offered a viable model of sustainable development. Public, private, and non-profit sectors joined forces to create the park, and their collaboration remains an important element of its continuing success.
Over the past two decades, the incubator model to support local food systems developed at Intervale has received national recognition.  The park serves as an ideal example of how sustainable agriculture combined with innovative technologies can strengthen food systems and build community.