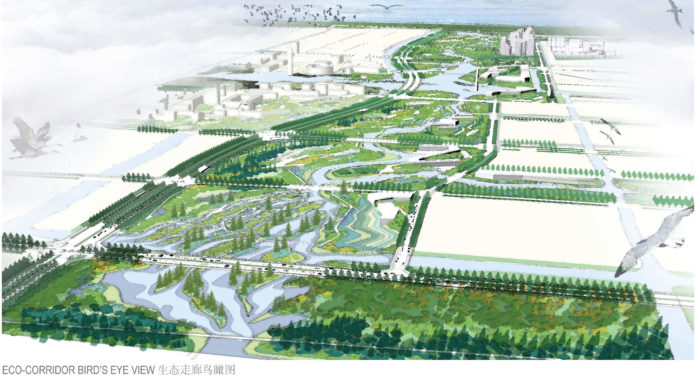 Along the foggy shores of Denmark's coast in an industrial area known as Kalundborg, an environmental paradigm emerged nearly four decades ago.
A number of companies decided to exchange waste materials and energy. Over the years, the network grew to include a power plant, refinery, pharmaceutical factory, fish farm and other manufacturers.
The network became the world's first large-scale eco-industrial park.
Kalundborg was only the first of hundreds of eco-industrial parks (EIP) around the world that followed–some successfully, others not so much.
The Danish site exemplifies the EIP concept. At its heart is a complex web of exchange.
The power plant burns the refinery's excess gas, generating electricity and steam. The steam in turn warms fish ponds, heats city buildings and powers factories. Sludge from the fish farm and factories fertilize local farms; and fly ash from the power plant becomes cement.
Eco-industrial Parks
Over the years since Kalundborg's inception, EIP have evolved. They now come in various forms, but all share common characteristics:
Co-location or proximity:  A variety of companies clustered near resource recovery and recycling facilities.
Shared byproducts: Companies use waste energy and material from others as inputs in their own processes.
Cleaner production: An emphasis on cleaner production throughout the production process.
Other factors often common to EIP include ecological design, collaborative financing mechanisms, R&D activities and sharing of services.
Through cooperation and collaboration, member businesses strive for more efficient and ecological use of resources, improving their bottom lines while minimizing their environmental impact.
Importantly, a successful EIP will usually support partnerships with other businesses, local governments and the community beyond the park. At Kalundborg for example, the city government uses steam from the power plant, and local farmers use industrial byproducts as fertilizers on their fields.
There's no official definition of what differentiates an eco-industrial park from other industrial sites or networks. However, researchers and policy makers generally agree that to be classified as such, an eco-industrial park must be more than a cluster of:
recycling businesses;
environmental technology companies; or
businesses based around a single environmental theme (i.e. solar energy park).
Nor can the site only feature:
environmentally friendly infrastructure or construction; or
mixed-use development.
EIP often act as hubs for regional economic development. They can attract foreign investment, spark innovation and create jobs.
Organization
The Kalundborg EIP evolved organically over time; no business leaders or government officials directed its development. Rather, the site emerged in response to the efforts of companies to increase profits, reduce costs and meet regulatory requirements.
Many EIP self-organized in this way. Independent linkages emerged, forming networks that allowed members to better meet business goals and meet the needs of customers.
Other EIP have been consciously designed by private sector developers, governments or community groups; or created by a partnership drawn from these sectors. Often, existing networks of exchange form the basis for a broader plan. Alternatively, a park can be built around a single large facility, such as a power plant, which acts as the central element of a design plan.
Challenges
Eco-industrial parks have had their share of challenges.
Due to the potential scale, infrastructure demands and coordination of EIP, there's a risk of thinking too big, and of expecting too much, too quickly. Proponents of an EIP initiative sometimes find their dreams running headlong into reality. Bureaucratic inertia, lack of funding, burdensome regulations and limited business support are only some of the obstacles in the way.
Problems emerge when governments take a heavy-handed approach to planning and implementing a park, with inadequate input and participation from the private sector and local community. This is especially true when decisions are made for political rather than economic and environmental reasons. The end result is often excessive or unwise investment.
Effective management can be a challenge as well. It's not easy finding managers capable of overseeing the day-to-day operations of the park while keeping a close eye on its broader economic and environmental mandates, as well as community needs. Successful EIP require highly effective management capable of bringing together business, government and the community.
Examples
Today, a variety of EIP are in operation across North America and around the world. Here are a few examples.
This EIP, home to various waste recovery and processing facilities, is part of the Hong Kong government's waste management and recovery strategy. (Link)
A former textile dye factory in Charlotte, NC is now the site of what community planners hope will be one of the United State's leading renewable energy developments. (Link)
This eco-industrial park in Burlington, Vermont focuses on food production and features both businesses and greenhouses using excess heat and energy from the nearby power plant. (Link)
This is the first planned eco-industrial park in Finland and is centred around various wood processing facilities. (Link)