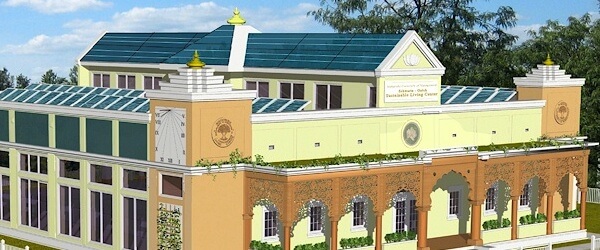 There have been tons of projects recently, highlighting all the different ways we can build something that's completely sustainable, or at least part of the way there.
But usually these are private projects, designed by a developer in order to sell houses, or funded by a European country or another.
Or they're entirely "model" projects, designed just to show off what a bunch of sustainable technologies can do without actually being fully put into practice.
What is the SLC?
That's why the Sustainable Living Center, being built in Fairfield, Iowa, is different.
It's part of a university, but every aspect of its building has been conceived through a sustainable lens – including the construction.
Why is it Different Than Other Buildings?
Because every aspect is sustainable, it provides the ultimate educational model for others wanting to use its innovations in order to build sustainably, too.
Once a solar-powered utility shed is completed, every single aspect of its construction will be done with renewable power.
When it's actually done, we're talking about an entirely off-the-grid building, where rainwater is captured, wastewater is processed, electricity is generated – all in service of the one purpose of the center: teaching others about sustainable living.
Does It Mean Anything For Our Own Homes?
While it might not mean anything at this very second, the entire point of the building is that it's a sustainable living department in a university, using a building that is a living embodiment of what it's pursuing.
It's like taking a course on sustainable food at a restaurant that uses nothing but, or doing a course on recycling and never once coming into contact with a piece of paper that wasn't 100% re-used.
As the course (and building) evolve, they'll continue to tweak, optimize and adjust various aspects – almost ensuring that new, more efficient ways of doing things will come out of the project, including things that will surely have a good impact on our own homes, albeit down the road somewhat.
The Most Important Part – All This Tech is Available Now
This really is the most encouraging bit about the whole story – every single bit of technology being used to build the SLC is completely off-the-shelf, just standard material that you can buy, today, in any building project you might be undertaking.
It's nothing fancily custom-designed, and it's been cobbled and combined together into a building that, when it's completed, will be 100% sustainable right from construction to operation.
Different Than the Usual University Model
That's one flaw about traditional sustainability research projects – given the open boundaries of a university and the conceptual nature of a lot of student & research work, a lot of projects on sustainable development can seem great in theory but, well – non-existent in practice.
This is no-one's fault, only that I know I've spent my fair share of time getting excited about various CAD renderings and mockups that I know will never turn into products.
So that's why the SLC's focus on actual, off-the-shelf products is welcome and innovative for a school.