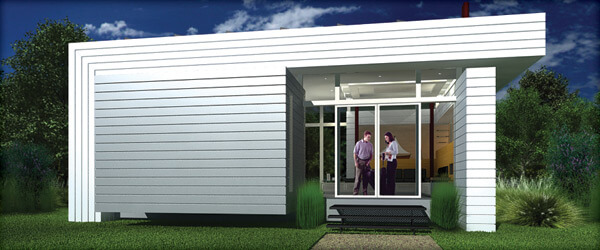 Issues with finding housing in urban spaces has become an increasing challenge. Finding sustainable living solutions in urban areas can be next to impossible. With the mission of solving the housing problem around the world Gaby Strehler, the creator and inventor of Nano House, has set about creating a sustainable solution to this issue.
The three fundamental items Gaby took into account when designing this home were:
The ever decreasing amount of sufficient living space in high density urban areas
The need for a solution to cope with continuing density growth
The need to create more efficient living quarters that have flexible spaces and are intelligently designed
Her answer to these issues is the Nano House, a house that measures 25 square meters and Gaby feels that it can comfortably fit a family of four. After looking at the plans and how the systems transform the living/dining room area into 2 bedrooms, comfort may be a relative term along with the word private, when looking at the bedroom layout. But this will be up to you to decide.
The Nano House is built using recycled and recyclable materials and incorporates additional sustainable elements, such as our solar panels, rainwater collection system, and gray water recycling system to create a house with a minimal environmental impact and CO2 footprint.
Though not for everyone, the Nano House does offer interesting insight into how we can green our urban housing.