Green architecture, otherwise known as sustainable architecture or green building, is a form of eco-friendly construction whereby a property is built with the natural environment in mind.
This may incorporate the use of alternative energy sources, recyclable materials, green roofing, waste reduction and other factors into the construction.
Green architecture is a growing sector and examples can be drawn from across the globe. Those with a desire to 'go green' and embrace environmentally friendly influences are attracted to this method of construction for a variety of reasons.
Namely, this is for the environmental benefits, as well as the desire to be socially responsible and the potential for cost saving over time. Cost saving can occur due to new found self-sufficiency with regards to energy consumption and recycling.
With the increasing level of urbanisation, the construction industry is constantly on the lookout for the latest, eco-friendly construction solutions. With this in mind, we've explored several buildings from around the world that have done just that.
Suzlon One Earth in Pune, India
As the Indian based corporate headquarters of Suzlon Energy Ltd, one of the biggest players in the wind power sector, you wouldn't be wrong in thinking that their HQ must boast some seriously green credentials.
As opposed to housing themselves within a traditional sky-scraping building, Suzlon Energy have opted for a campus approach which consists of multiple buildings surrounded by a large garden, streams and a scenic waterfall. Their aim, they say, is to create a working environment that is unique and inspiring whilst being sustainable.
In line with their environmentally friendly ethos, their premises are a fine example of green architecture. The property is proud to recycle all water and it utilises many roof gardens and additional insulation to ensure passive cooling.
It is no surprise to hear that the property also makes extensive use of alternative energy sources, using solar panels in conjunction with windmills to generate power.
LEED platinum rated, One Earth is a well-known example of successful green building within India and has become a worthy benchmark for green architecture going forward.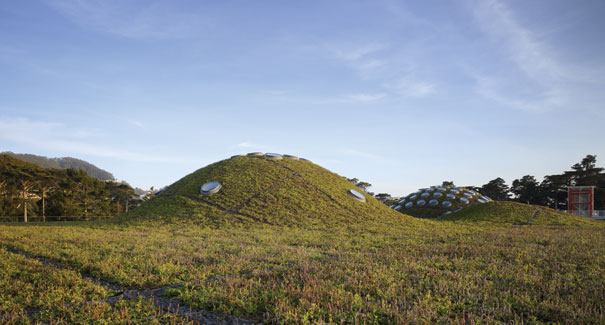 California Academy Of Sciences in California, United States
California Academy of Sciences is one of the biggest natural history museums in the world and is located in Golden Gate Park, San Francisco, USA.
The museum receives in excess of 1 million visits per year and is housed within a large environmentally designed building, spanning an area of 400,000ft2.
Rebuilt in 2008, the building features many sustainable design elements, including extensive use of recycled materials, high levels of natural light and ventilation and a large scale green roof. Key features include two large domes, one is used as a planetarium and the other provides light over the rain forest zone.
These environmentally minded elements serve to lower carbon omissions, decrease energy consumption throughout the building, improve insulation, encourage storm water absorption and mitigate the heat island effect.
Taipei 101 in Taipei, China
The world's tallest green building, Taipei 101 is a LEED platinum certified skyscraper located in Taipei, China.  At a staggering cost of $700 million, the structure is a fine example of modern green architecture. Consisting of offices, shops and restaurants, the site spans 101 floors (plus 5 underground levels) and is 198,348m2.
Eco friendly elements include:
Asia's largest water distribution system
An automatic shut off air conditioning and lighting system – ensuring that these are only in use when the property is inhabited
Timed extractor fans
Extensive tenant education regarding thermostat/air volume management
Apparent savings through their investment in eco-friendly building methods equate to almost 3,000 tons in reduced CO2 omissions, 28,000 tons of water, 1,261 tons of garbage and 4.8 million KW of electricity per year – a huge feat by anyone's standards.
Taipei 101 has truly shown itself as a leader within the green building industry in China and sets a standard that has not only been set for businesses across the region, but also across the world.
Hearst Tower, New York City, United States
Located in bustling midtown Manhattan, NYC, the Hearst Tower is a 46 story building which dates back to 1928. The tower has the accolade of being the first green high rise building in the city, and is a fine example of green architecture.
The building makes extensive use of both light and space, and benefits from a large atrium which provides an ample focal point within the centre of the building.
A staggering 90% of the steel construction is comprised of recycled materials and the limestone paved atrium works well to conduct heat. The buildings lighting is reactive to the levels of natural light and keeps the reliance on artificial lighting in check, ensuring that there is no wastage.