Danish architects Kristoffer Tejlgaard and Benny Jepsen have created a deconstructed geodesic dome for this year's "People's Meeting" in Bornholm, Denmark using locally-sourced Douglas pine and recycled wood.
The geodesic dome, as the name suggests, has no columns and thus, creates more open space. In lieu of columns, the frame is supported by triangles. If you think this dome has limitations, think again! The dome has a kitchen, bar, dining area and stage.
The dome, engineered by Henrik Almegaard, was composed of 5 x 10 cm and 5 x 15 cm construction timber and plywood beams of the same size. The total structure measured  8 meters high and 212 square meters in area.
Designboom shares details of the construction process:
The connections are made with custom steel plates that allow full flexibility through modularity. Any group of triangular modules can be removed, expanded or contracted, made into a window, a door, or treated with a different veneer. The metal nodes incorporate the external structure as well as the interior rafters and tension cable connections. Its construction possesses the potential to adapt to any scope with the capability to adapt to changing needs.

A table of stress levels was produced with engineer Henrik Almegaard pinpointing four strength classes and minimizing the use of extensive material. All the wood used in the project is locally grown douglas pine, with 2×4's and 2×6's comprising the frames, and recycled old boards wrapping the facade in different patterns.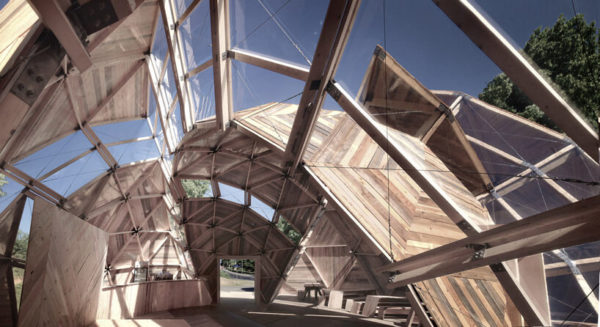 "We have the ambition that architecture is to be as site-specific as possible, that architecture is influenced by the local surroundings; the view, the landscape, the wind and the sun. And the features it offers," state the architects to Domus. "On the drawing board was a sketch model that has been a long time underway, but had been missing the right circumstances, sentiments and audience. A model of a deconstructed "Dome", a construction iconized by the hippies in the 70s."
To truly understand the importance of this structure, one would need to look at the statistics of how much wood is wasted each year. In the United States alone, according to the U.S. Forest Services, there was 63 million metric tons of wood waste send to landfills. Of this, 43 percent was wood that could have been recycled.
While the dome is a temporary structure and would, most likely, not last the seasonal changes, there's no denying that creating a temporary structure out of recycled wood is a great use of wood that would otherwise have been in landfills.
What's more, reusing recycled wood for creating new structures is a great solution for housing meetings requiring disposable buildings without wasting too many resources on a temporary structure. A truly sustainable idea would be to save the wood used this year, upon the destruction of the dome, and to reuse it for next year's "People's Meeting."