Most people dump bottle caps in the trash letting them end up in land fills and oceans, but not Olga Kostina. The Russian retiree–who lives in Kamarchaga village, a remote area bordering the taiga forests of Siberia–has a unique hobby of collecting recycled bottle caps. Kostina has been collecting colorful bottle caps for years and has decorated the exteriors of her home with them, building bright mosaic patterns.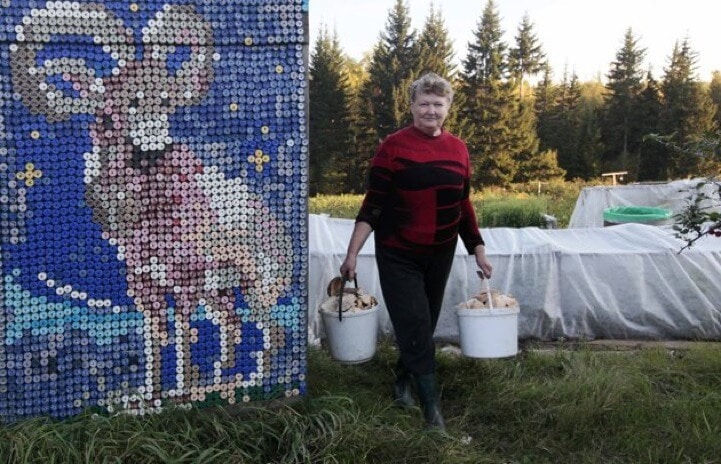 Kostina has created beautiful designs and depicted local wildlife in her mosaic, using over 30,000 plastic bottle caps. She follows traditional macrame patterns and hammers each recycled bottle cap by hand into the outsides of her wooden home.
Needless to say, her homes has become a local tourist spot. Fortunately, she has no plans of stopping: Kostina plans to continue covering the other buildings on her property with the same details mosaic artwork.
This is not the first time someone has used recycled product and created a sustainable design. Two years ago another Russian woman, Olga Queen of Novoshakhtinsk, Russia, built a house made of 5,000 glass bottles. Queen, who spent six months collecting glass bottles, stacked the bottles in the wood frame and concrete body of the house causing the bottles to trap air and provide insulation.
Last year, the northern Nigerian village of Yelwa created the the country's first plastic-bottle house. The bottles are filled with dry soil or construction waste, then laid in rows like bricks and bound together with mud resulting in a sturdy, bulletproof and earthquake-safe building. Close to 7,800 plastic bottles were collected from hotels, restaurants, homes, and embassies to complete this project.
And then there is the beautiful Wat Pa Maha Chedi Kaew temple (also known as Temple Of A Million Bottles) from Thailand's Sisaket province that is made of 1.5 million green Heineken and brown local Chang beer bottles collected by Buddhist monks. The bottle caps were used to create mosaics of Buddha.
The work of all these  people shows that sustainable design is a practical possibility. Bottle caps can be reused to create beautiful buildings and artistic designs and bottles can be used as a foundation for buildings. What's more, the benefits of reusing bottles and bottle caps are two fold: Not only could it recycle millions of bottles that would otherwise sit in landfills, but it could also be used to build buildings, homes and schools in third world countries and remote parts of the world.