On Thursday 13th June the Royal Institute of British Architects (RIBA) showered praise on international architects, as they announced the 2013 winners of their International Awards for architectural excellence.
Showcasing the best in architectural innovation around the world, the awards give us a peek into the future of sustainable building.
Let's have a look at five of our favourites who are paving the way for a brighter, greener future!
1) The Aleph, Buenos Aires
Foster + Partners have been at it again. The Aleph is an apartment complex paving the way for a wholly sustainable refurbishment.
As the beginning of an environmentally-friendly renovation of the port area in Buenos Aires, the complex uses clean lines to highlight the beautiful setting and elegant little solutions for ventilation, air flow and shading, that gives high hopes for the rest of the area.
2) National University of Singapore Faculty Housing, Singapore
The housing solutions for the National University of Singapore, Kent Vale, have been designed with the University's commitment to sustainable and environmental development in mind. With specifications that read like the wish-list of any environmentalist, the high-rises have earned their place in this list.
From ventilation software and motion sensor lights, to the use of environmentally friendly products and living green wall structures, MKPL Architects obviously looked at the design of this building from every green angle they could.
3) Fitzgerald Street Housing Development, Perth Australia
Also shortlisted for the 2012 World Architecture Festival Award, the Fitzgerald Street Development is another project focusing on affordable social housing. This residential complex has been designed with sustainable living solutions in mind.
From beautiful design to a central landscaped garden, JCY Architects and Urban Designers prove that quality of life is still important and attainable in affordable housing.
4) Central Market Souk, Abu Dhabi
One of Abu Dhabi's most historic sites has been transformed by London architects Foster + Partners into a modern souk that combines aspects of traditional markets into a thoroughly modern environment.
Kept low-rise and featuring a rooftop covered in greenery, the building is both green… and yellow and blue.  Large ornamental windows have solar protection on the outside and coloured glass on the inside to get the best of both worlds in this environment. Yellow and blue stars shine on the floor, bringing a reminder of the colourful fabrics and strong sunlight from the original site.
5) Milas -Bodrum International Airport, Istanbul Turkey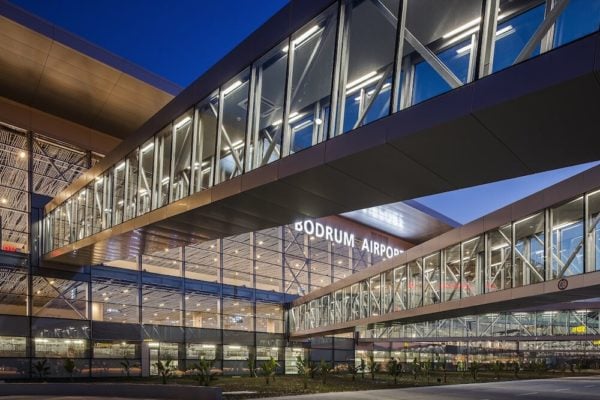 The Bodrum International Airport is somewhere you'd be happy to arrive, as it looks like the picture of modern efficiency! Obviously needing to be functional, as well as visually appealing, Tabanlıoğlu Architects have created open-plan spaces free of columns with clear signs and directions for passengers.
The design is one of simplicity that works well with its raison d'etre, but also incorporates sustainable, natural heating and cooling systems that have been scaled up from smaller projects to work in this more ambitious project. The result is calm and relaxing – a feeling that can often feel a world away when you travel.
Have you spotted any other green buildings in the press recently? Share them in the comments below!
All images courtesy of RIBA