When people think of solar panels they don't immediately think of beauty and innovative design. Instead they tend to picture ugly, blocky panels that have been awkwardly placed on the roof of a building. The bad thing about this is that the common perception of solar panels tending to be ugly is in fact a reality, as most solar panels stick out like a sore thumb from the rooftops of buildings. These panels may be functional in generating large amounts of solar electricity but they are far from aesthetically pleasing.
But some architects with a keen eye for design have focused on this flaw and successfully integrated the use of solar panels, in creating buildings that are both functional in generating solar power and being beautiful to look at the same time. Instead of conforming to the norm of just placing solar panels on a roof many architects have actually worked solar panels into the overall design of a building which has generated some fantastic results
Here are some great examples of this:
Vertical Village
The vertical village is located in Dubai and was designed by the architects from Graft Lab. The overall look of the building is completely unique and looks extremely futuristic which was what the designers were aiming for. The most amazing feature of the vertical village is that each of its buildings are positioned so that they are self shading, so that the buildings stay cool, whilst the solar panels capture the maximum amount of rays. It is a perfect example of how a building can be appealing to look and at the same time be highly functional.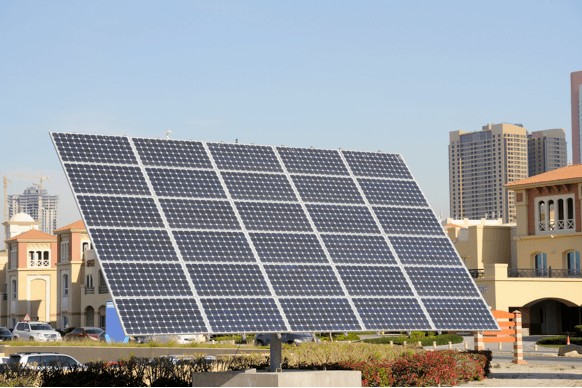 (courtesy of ShutterStock.com)
Solar Sundial building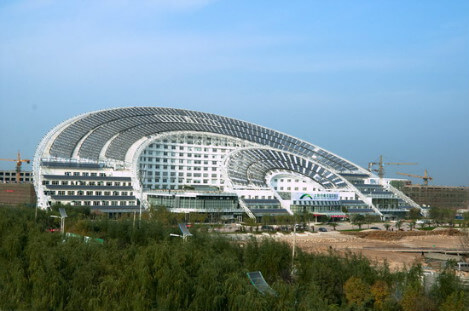 This isn't the actual name of the building but it was designed specifically to look like a sundial. Located in Dezhou, China, the congress centre used for the 4th World Solar Cities Conference is 75,000 square meters and contains 50,000 square feet of solar panels. The amount of solar electricity it will generate is enough to power 95% of the centre's energy needs. Many people were just blown away by the beautiful design as well as the statement it made that green energy is the future.
Chicago Solar Tower
This stunning design unfortunately isn't a reality yet, but nonetheless is a good example of how buildings can be made more sustainable by adopting the use of solar energy. The architects at Zoka Zola designed the Chicago Solar Tower because they believe that the current way that towers are designed today are outdated. They believe that designers have to look to the future in order to create the most sustainable buildings. The proposed design of this tower is to fit all sides with solar panels in order to maximise the surface area of the solar panels. The solar panels won't be the standard solar panel. Instead they will be circular in shape and stick out just above the windows of the building. The design work behind the Chicago Solar Tower is extremely breathtaking.
By looking at these amazing pieces of design you can see that using solar panels in architecture and design doesn't have to be plain and boring. It is possible to make some outstanding pieces of work by integrating solar panels into the build. It is also a great way of planning for the future. This is because there is much uncertainty on how long fossil fuels will actually last for. Due to this reason I am sure that we will see a lot more designs that adopt solar panels into their structure.