When you're trying to be environmentally conscious, there are a number of things you can do to cut back. You can even fly out of different airports. Consider the five following airports for an eco-friendly trip.
Boston's Logan International Airport
This was the first airport that the U.S. Green Building Council certified. Even its origins were eco-friendly. During construction, a unique environmentally-friendly asphalt was used that reduced CO2 emissions and saved energy and fuel. Today, it has a variety of sustainable design elements, include techniques that reduce water usage and improve the efficiency of lighting. It also uses solar panels and has wind panels. Other plug-ins at the gates keep the airplanes from running auxiliary power units.
Denver International Airport
DIA is a green airport that recycles paper, plastic, aluminum, restaurant grease, organics and glass. It is also the airport that has the largest solar farm and generates roughly three million kilowatt hours of energy. The airport also has plug-in power which means that the planes don't have to run as frequently, which saves energy and lowers emission.
Dallas/Fort Worth International Airport
The Dallas/Fort Worth airport didn't just remodel its interior, but it took the opportunity to make it easier to carpool and use public transport by altering traffic flow. It also encourages vehicles, such as taxis, to use alternative fuel that burns cleaner.
Other changes that are taking place inside the airport include the use of low-flow toilets, solar lighting and light-colored roofs, which enhances the reflection of sunlight. Overall, this has increased energy efficiency, lowered emissions and made the air cleaner.
Zurich Airport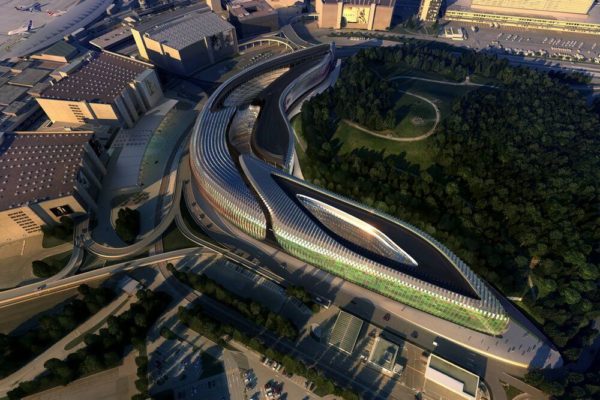 Not only is the Zurich Airport in Switzerland green, but it also has some pretty cool design elements. It has indoor nature trails and uses solar panels, a compressed natural gas station, rainwater flush toilets and wind turbines. This can improve the air and the water.
It also addresses noise pollution by fining airplanes for making noise based on the aircraft type, leading to a quieter environment that improves the overall atmosphere.
Seattle-Tacoma Airport
This airport's new rental car facility used organic paints, sealants and carpets and expects to recycle more than 90% of the excess building material.
The rest of the airport also recycles. The vendors and the offices reuse coffee grounds and unused pre-packaged food is donated to area food banks.
Other eco airports include El Prat Airport, East Midlands Airport, San Francisco International Airport and Fort Lauderdale-Hollywood. Next time you fly, consider rewarding one of these airports by using them for your travel needs. Not only will you be promoting a green society, you're also leading to a better future.