A lot of kitchen manufacturers have been keeping up with times and are now focusing on incorporating eco-friendly solutions into their designs. Such solutions include energy-efficient appliances, and units being constructed from environmentally friendly materials and build methods, meaning future kitchens will be kinder to the planet whilst maintaining efficiency for the user.
Eco Country Kitchen
To look at, this kitchen looks like a classic country kitchen, with its timbers and wooden accessories. You would think using all this wood would be extremely damaging to the environment, but the woods and timbers used in this kitchen are made from FSC (forest Stewardship Council) certified timber, an indication the wood came from a sustainable source.
Modern Recyclable Materials
This modern styled kitchen, although looking almost commercial with all its stainless steel panels, is actually greener than it appears. Glass and stainless steel both help with make a kitchen greener as both are recyclable. In fact, stainless steel sinks are generally made from around 70% recycled materials. Glass worktops are not only hardwearing and have anti-bacterial protection, but some companies use glass made from a massive 95% recycled glass, so it's worth taking in account before you buy.
Natural flooring
Linoleum is widely known as a natural product made from linseed oil and pine resin. These are both harvestable and renewable sources, so it's an extremely green alternative. It's a practical choice, being both warm underfoot and extremely hardwearing. Bamboo is another green flooring as this, too is a sustainable source and it can also withstand temperature changes. Finally, have you ever considered cork? This is eco friendly as it's harvested from the outside of a living cork oak tree.
Green To The Extreme
Whilst this kitchen looks like something from a sci-fi movie, it does look modern and is as green as a kitchen could be. This minimalist compact kitchen uses what it calls Micro-plant 1, Micro-plant 2 and Micro-plant 3. The first plant on the left deals with the selection, processing and storage of solid waste. The next and second plant is a water collection and recycling unit, and the third in line disposes of organic waste in an earthworm composter. Other features include a cooker, overhead ultraponics and storage.
Tuscany Inspired Eco Design
An Italian kitchen designer took inspiration from Tuscany's landscape and incorporated it into a kitchen called the "Americana". It combines the cutting edge of contemporary design with the elegance of a traditional kitchen. Built from only the most environmentally friendly materials, this wonderful design, with smooth surfaces and soft edges, is a charming addition to any house.
Traditional Kitchen Eco Style
This design looks like a traditional and contemporary kitchen, and whilst maintaining this great finish, many eco friendly methods have been utilised in its creation. Eco friendly furniture and fair trade baskets are used, the wood used in the units is taken from a sustainable source, and the lacquers used are also free from toxic chemicals. So whilst it's not obvious or apparent these methods have been applied, it's nice to know this great looking kitchen is also doing its bit for the planet.
Light and Spacious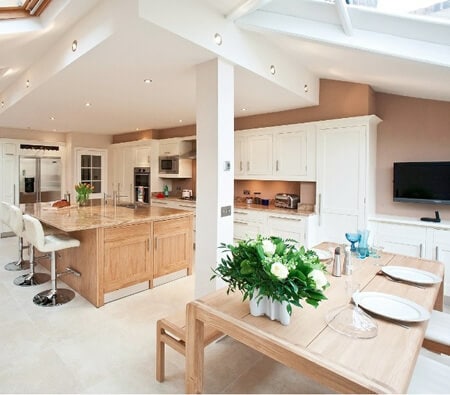 Whilst suited to a bigger home, this spacious kitchen is a wonderful place to be in, with lots of matching light wood and sustainable furniture.
I hope this article has inspired you into thinking about your next kitchen, perhaps taking on a greener design, something both stylish and friendly to the environment.