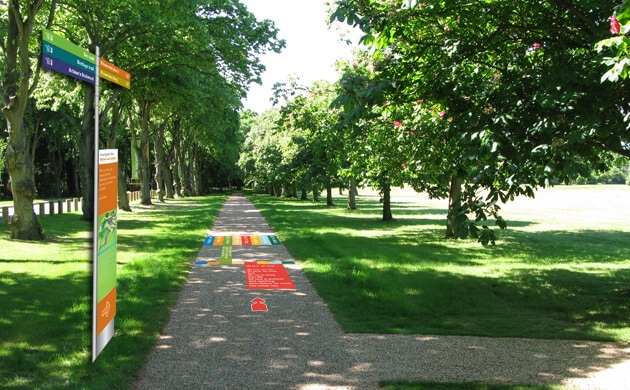 Sustainable design goes much further than sourcing eco-friendly materials and limiting the effect on the environment. It's about creating places which people respect and feel connected to. Wayfinding and place-making are two methods which can find the soul of a place and give it meaning and narrative for a community.
Placemaking is essentially 'making a place' and this concept began in the 1960's when urban planner Kevin Lynch published The Image of the City. William (Holly) Whyte developed the concept further and explored the different ways that communities interact with their places and that by giving them meaning and narrative, they become alive for the people that use them. Lynch defines wayfinding as 'a consistent use and organization of definite sensory cues from the external environment," which, if the public can navigate a place with ease it elevates its sense of meaning in their world.
Modern day planning
In ancient times, places were naturally outlined by the natural habitat and their position to the sun and moon, for example the SunTemple at Machu Picchu. However, the way we plan and build our communities has strict protocols for both the general public and developers to follow. But how can modern day planners construct something sustainable, beautiful and above all meaningful? We aren't asking for the SunTemple, but another soulless building or plaza simply doesn't engage the community that will use it.
As the largest Place-making agency, Project for Public Spaces (PPS) states that  "the process of building cities today has become so institutionalised… that people seldom have an outlet to put their intuition to use anymore." In a further PPS article they list the reasons why public places fail including; lack of seating, poor entrances and inaccessible spaces and paths where nobody wants to go.
How do we create a soulful place
The answer lies in the meaning and this is found by engaging the surrounding community. UK Placemaker and wayfinding expert Richard Wolfstrome says that this isn't a straight forward approach and involves "engaging as many voices as we can, identifying stakeholder groups and finding the best way to engage them…There is no one-size-fits-all solution. Each location, each community, requires its own approach."
Indeed, the West farm Bronx in NYC is a recent PPS project which has been funded by the Deutsche bank. Despite the area hosting the Bronx zoo, New YorkBotanical Gardens and the Bronx River Art Center (BRAC) it has problems with crime and drug use. PPS facilitated a number of games and broader forums to find out the best way to develop the space that nurtured the community rather than being a fragmented assortment of facilities often linked by no-mans land. The project is ongoing but the first report has been submitted and you can read more here.
Courtesy of PPS – West Farm Bronx Project
A fine example of a how wayfinding compliments place-making is this well-being trail on a housing development in Chichester, a mid-sized UK town. This trail which focussed on fitness, diet and well-being for the residents ran for 1Km round a local park and the detailed plans involved working with the surrounding community to introduce local artworks and bring a creative writing element into the work.
Photo courtesy of Wolfstrome – Graylingwell-being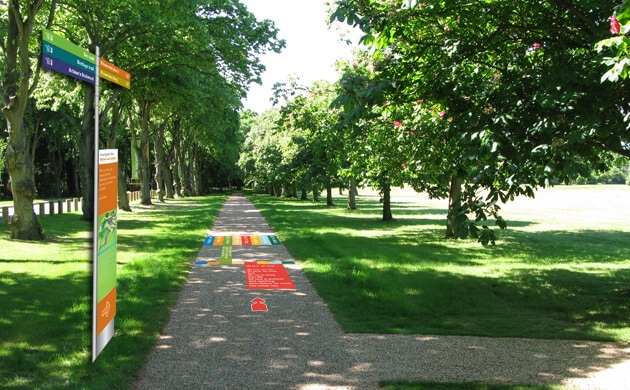 Whether it's a local art project or an international airport, place-making and wayfinding construct a place that is loved, enjoyed and will thrive over time with the engagement of the community – thus increasing its social sustainability.