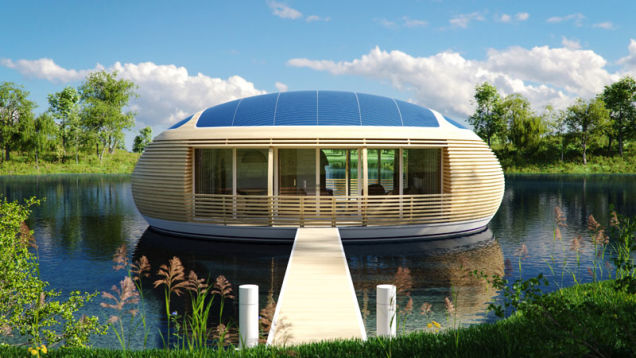 Between Earth Ships, the Small House Movement, and others, there's a huge desire for off-the-grid alternatives to typical housing options.
London's EcoFloLife have been working on these alternatives for years, and, in partnership with Italian architect Giancarlo Zema, have annouced plans for a new kind of energy-efficient home.
The Waternest 100 will be a literal floating haven of green energy. Made from reycled timber and salvaged aluminum, it is 98% recyclable. A 60m2 solar panel array on the roof will generate 4 kwp.
The interior will be offered in a variety of configurations, which, according to DesignBoom, can include space for an office, lounge bar, restaurant, retail shop or exhibition area.
[sam_ad id="85″ codes="true"]
Thanks to the company's innovative technologies, the Waternest 100 can be positioned on any stretch of calm water – rivers, lakes, bays, even particularly quiet stretches of sea.
Head on over to DesignBoom to read more about the project.