It could be Steve Jobs' greatest legacy, or his biggest donut.
The usually energetic founder of Apple looked frail and weak, as he made his initial presentation to Cupertino's city council seeking approval for a gigantic new home for Apple's headquarters on June 7, 2011.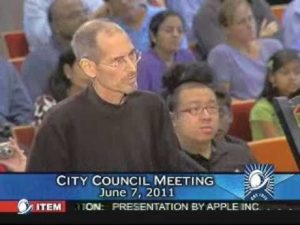 Suffering from pancreatic cancer, his charismatic charm during that summer meeting shone through as he quipped with one local politician. The councillor asked Jobs if they granted him permission to build his dream office, would his company provide the city with free Wi-Fi.
Jobs jokingly said if Apple didn't have to pay taxes any more, then they could talk about providing free WiFi.
Four months later, the iconic leader of one of the most recognized brands on the planet succumb to his illness. Steve Jobs died October 5, 2011. He was 56.
Steve Jobs changed the world through innovative and imaginative tech. From the first iPod in 2001, to the launch of iTunes later that year, to the first iPhone in 2007, Apple's devices changed the world.
Although Jobs is gone, his dream building is alive and starting to take shape.
In December 2013, construction began on the massive 176-acre site in the South Bay City, of Cupertino, California.
Officially called "Apple 2," it's known as the "Apple Spaceship Campus" because the primary building is completely round, and appears to be a spaceship from above.
Designed Norman Foster, known for the bullet-shaped Gherkin in London and the restoration of the Reichstag in Berlin, the four-story donut-shaped building will house 13,000 Apple engineers and designers.
Hidden off the southern edge of the campus is Apple's top secret research and development facility, and on the other side of the campus, a 1,000-seat underground auditorium will hold press launches for journalists clamoring for the latest Apple product announcements.
Whether Jobs' vision, to create a workplace that encourages creative sharing of ideas remains to be seen. The concept has already been panned by other well respected architects for not being modular as current, more traditional office spaces are.
Steve Jobs'  greatest legacy could be creating a workplace that is designed with the environment in mind. Or it could be his biggest donut, that crumbles and fails to deliver.
Jobs and his design team didn't design a new corporate campus, they set out to build a park.
The 90,000 square-foot cafeteria allows employees to stroll the surrounding parkland on both the inside and the outside of the giant ring.
David Muffly, Apple's Senior Arborist and his team, have sculpted the surrounding area like a skilled artist, every plant is planned.
Near the giant fountain a cluster of Apple trees, by the entrance to the cafeteria there are cherry, plum and apricot trees, with persimmons adding color. A dense forest is planned to circle the outside to provide privacy, and there will be green spaces of lawns, gardens and other natural environments all throughout the campus.
According to plans, when the campus is completed in 2016, it will be 80 percent landscape – an increase from the current 20 percent. They plan to increase the number of trees from 4,500 to 7,000.
Muffly, in his nineties, says the idea is to bring California back to Cupertino.
Keeping with the environmental nature of Apple's new home, the spaceship campus is to be powered entirely by renewable energy.
On-site fuel cell plants and solar photovoltaic arrays on the roof are to provide most of the power. Natural ventilation and radiant cooling will keep the spaceship off traditional air conditioning for 70 percent of the year.
Lisa Jackson left her gig running the American government's Environmental Protection Agency (EPA) to take the lead in designing Apple's renewable energy systems.
This could be Steve Jobs greatest legacy, or his biggest donut, because keeping the lights on in a 2.8 million square foot spaceship-like building using nothing but renewable energy is something that's never been done.
The $3 to $5 billion USD price tag to build Steve Jobs' dream has bold plans, however, little has been made public about the technology envisioned to power the giant spaceship and it's neighboring structures on the campus.
In theory, it is possible – however powering such a massive structure this way has never been done.
If it works, Steve Jobs will have a far bigger legacy than changing the world through Apple gadgets. He will have proved that it is possible to design our living and working spaces in conjunction with the ecosystems in which we live. That it is possible to reduce our impact on the planet, by living within green spaces that use renewable non-polluting energy sources.
If it doesn't work, it'll be the biggest donut visible from space on the planet.