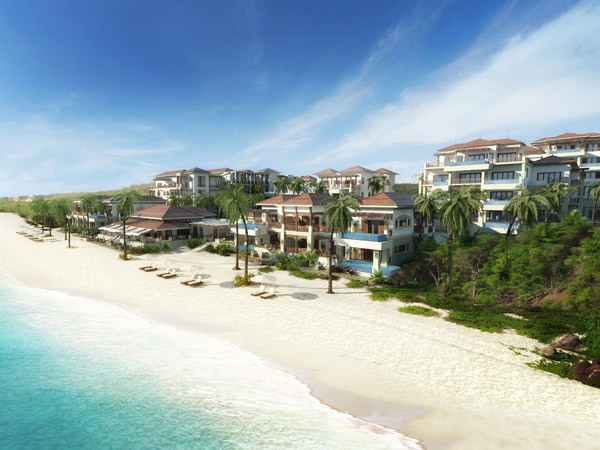 Anguilla is an island known the world over as a place of outstanding natural beauty.
Lovingly referred to as the 'Jewel of the Caribbean', Anguilla is rich with both natural and historical wonders. Lush rainforest, tropical plants, a variety of unique wildlife and culturally important archaeologically sites have made Anguilla one of the last great unspoiled tourist destinations in the world.
It is to this outstanding natural beauty of Anguilla, that the developers of Zemi Beach, one of the latest residences currently under construction, have paid the utmost respect.
Part of what is felt to be Zemi Beach's unique charm is the area in which it is situated. Nestled between Shoal Bay and the Fountain Cavern National Park, the owners of Zemi Beach have made it their responsibility not only towards the stakeholders of Anguilla but the island itself to maintain the natural beauty and heritage of their surroundings.
With this environmentally friendly approach in mind, work on Zemi Beach has been carried out with due consideration. At all times, the impact on the natural setting has been minimized. Indigenous plants on the site were first carefully removed and stored for replanting when construction is complete. At the same time specially designed nurseries were constructed to cultivate more plants for when construction is finished. Moreover significant trees and natural formation have been painstakingly preserved.
The construction of the residences has also been designed to be environmentally friendly and beneficial to the island. The use of resources, especially those from outside of Anguilla has been minimized extensively, as to, the amount of materials that are emission intensive. Solar panels are being fitted to aid supply of electricity and heating, and heat-modulating filters are being fitted to collect waste heat. What is more, whatever waste or storm water is going to be collected, treated and reused so as to aid irrigation and protect nearby coral reefs.
Protection and preservation is the main aim at Zemi in terms of its development. To maintain the richness of the surroundings and the cultural and historical significance of the island is key. To ensure this, owners and guests at Zemi, as well as the islanders, have all been promised that no further developments are planned for the area once construction is finished. – meaning future generations will still be able to enjoy the surrounding wonders for years to come.