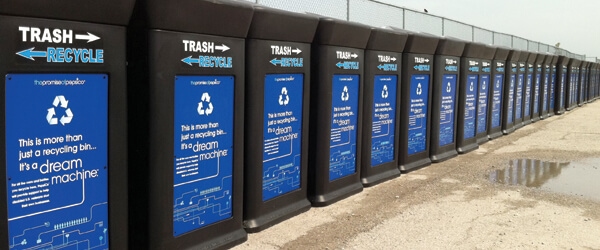 Today, PepsiCo announced it is sponsoring 2,500 Free Green Cans for the city of Chicago through its Dream Machine Recycling Initiative. Free Green Cans are dual trash/recycling receptacles, and their placement throughout the Chicago Park District will increase the access to recycling bins by a whopping 125%.
PepsiCo's Dream Machine Recycling Initiative
Last we heard about PepsiCo's Dream Machine Recycling Initiative, teams were setting up 363 recycling bins in the Washington D.C. area, with the same goal of increasing access to recycling bins in public places, while giving back to charitable causes with the money that is earned from processing recyclables.
Free Green Cans
By sponsoring Free Green Can, PepsiCo has increased awareness about their Dream Machine Recycling Initiative, while also increasing access for disposing of trash in cases when the waste can't be recycled (for example, chocolate bar wrappers), which still helps to reduce the amount of litter on streets and ending up in waterways.
PepsiCo is also going to be making donations to the Entrepreneurship Bootcamp for Veterans with Disabilities (EBV), which provides free business training to post-9/11 U.S. veterans with disabilities.
All around, a great program – not just for the environment, but for society as well.
Check out the video below to find out more about the big difference PepsiCo is hoping to make with their new recycling initiative:
If you're looking for a Dream Machine recycling bin near you, check out this Dream Machine Locator. Have you used the Dream Machine yet?