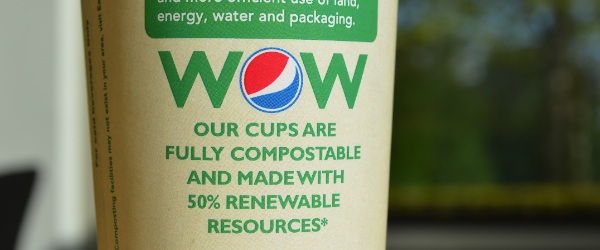 The next time you fill up a fountain drink at your local fast food restaurant or movie theatre, you could be drinking out of a compostable plastic cup, thanks to a new green Pepsi initiative. The new line of eco-friendly drinking cups being rolled out across the US Foodservice industry is going to reduce the environmental impact of the drinks, and will also help spread positive messaging about going green.
The eco friendly line of cups
The new line of cups come in 3 varieties:
Fully recyclable clear plastic cups, made using 20% post-consumer recycled materials
Compostable paper cups (as seen in the banner image above)
Wax cups made out of sustainably sourced plant-based materials
Check out some close-up shots of what the cups look like below. They are even better looking than the past non-environmentally friendly cups, and will be sure to draw any drinker's attention towards the great green messaging that goes along with them.
The Pepsi Promise
In 2011 alone, Pepsi has come out with some great green initiatives, primarily focused on reducing plastic consumption and recycling. For instance:
All of the green initiatives are based around The Pepsi Promise, which is as follows:
To be a good citizen of the world, protecting the world's natural resources through innovation and more efficient use of land, energy, water and packaging.
Pepsi's green efforts have so far been setting a great green example, and the introduction of the new recyclable and compostable eco-friendly cups is sure to continue the trend.
Recyclable and compostable cups in action
Check out this video announcing the new eco friendly Pepsi cups:
Will you be drinking out of these cups anytime soon?