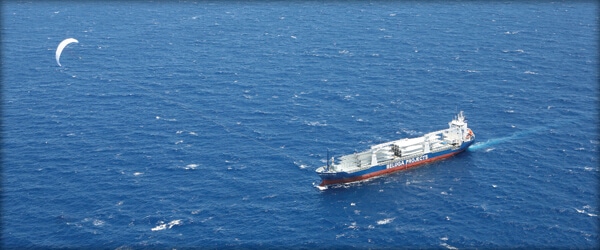 Wind Power Revolutionizing the Shipping Industry
This December, Cargill will be the first company to implement SkySails' innovative wind and kite-assisted sail technology on one of its 30,000 tonne cargo ships, with the goal of reducing the vessel's fuel consumption by up to 35%, and setting a new standard for greenhouse gas reduction in the shipping industry.
Shipping and Sailing with a Giant Kite
The kite, which will be 320 m2 and fly between 100 and 420 m above the ship, is connected to the cargo ship by a rope, which is attached to a computer. Depending on conditions, the computer positions the sail to make the best use of the wind at that time. Nearly all of the controls are automated, and the addition of the SkySails kite and technology to the ship has very little effect on the crew. And considering this incredible wind-powered technology will be implemented on such a large ship, referred to as a handysize vessel, there is no question SkySails kite solution can be implemented on ships of any size.
The Environmental Benefits of SkySails
The obvious benefits of using the wind to assist in shipping tens of thousands of tonnes of goods is the reduction in fuel consumption, which in turn leads to a reduction in greenhouse gas emissions. A recent United Nations International Maritime Organisation study on the use of wind-assisted ships revealed that up to 100 million tonnes of CO2 could be cut every year if SkySails technology was widely adopted.
Less Fuel, Cleaner Air, Cheaper Goods
It stands to reason that the implementation of SkySails technology will also have a beneficial outcome for the end-consumer. If a business such as Cargill begins saving money on the amount of fuel required to ship their goods, prices of these same imported goods in stores should also be reduced.
Although we are a few years away from seeing widespread adoption of this technology, let's hope that Cargill and SkySails innovative leap forward in the first quarter of 2012 sets a new standard for ocean transportation and shipping on the seas.