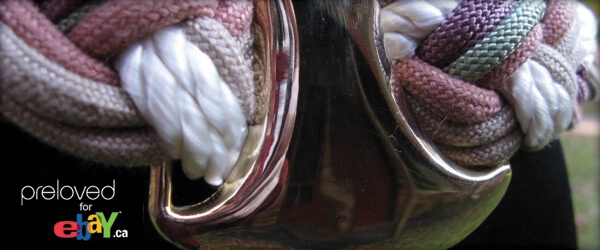 We all know the mantra: reduce, reuse, recycle. When it comes to everyday things, those of us leading the green revolution are constantly on the look out for new ways to make everyday items out of recycled materials. We have  found pencils made out of old newspapers, toothbrushes made out of yogurt cups, and flooring made from cork.
When it comes to fashion, we are diligent about checking labels and looking for great "eco" materials like ingeo and alpaca wool (click here for our full list of eco fabrics), but we can sometimes forget part of our mantra: reuse.
Preloved a clothing line designed and manufactured in Canada, reminds us that what is old can be new again. Founder Julia Grieve and Creative Director Peter Frisen take reclaimed vintage fabrics and spin them into beautiful one of a kind clothing. Preloved has quickly become popular with the Hollywood set and is now expanding its line to include home and baby. These additional collections allow them to further use up the remnants of leftover material from their Fall 2010 collection. We especially adore the names of the pieces: The Carly Sweater,  The Honeybee Skirt (for kids) and the Cinderella Apron. The pieces most defiantly have a personality all their own and will quickly become your "go-to" favourite for the season.
Yes, Preloved is available online and in several unique boutiques in Canada and even Australia (click here for a list). Keeping a low carbon footprint is important to the Preloved team, and this Fall they have partnered up with eBay Canada. In order to reach their growing list of fans, without increasing their carbon footprint with a large number of storefronts, Preloved will be launching an exclusive collection of nine pieces on eBay.ca.
"Offering Preloved designs to eBay's community of eco-conscious consumers is an exciting first for us, " said Julia Grieve. "We've designed the collection with new and existing customers in mind, bringing back favourites from past seasons and also introducing select pieces from our Fall 2010 collection in exclusive fabrics."
The special collection includes the following pieces :
Miss Ellie: A long-sleeved cardigan with Shawl collar.
Miss Parker: Long-sleeved, bolero-style sweater with an asymmetical four button closure.
Heather Cardigan: Button-down cardigan.
Gia Sweater: Short-sleeved, loose fitting sweater tunic.
Honey Sweater: Long-sleeved crewneck sweater with contrasting heart shape.
Patricia Sweater: Two-toned, short-sleeved sweater with draped neckline.
Jeannine Tote: A winter sweater turned in to a carry-al tote.
Maddie Scarf & Betty Mitts.
(prices range from $59 to $154 CDA)
The collection is available starting November 3rd on www.ebay.ca/preloved
eBay is excited to take on this partnership as it expands its efforts in being green. eBay has a created a Green Team that is over 2000 people big across the world. This team started as as an employee effort to make individual eBay offices around the world greener work spaces. These teams grew and so did the results of their efforts. From a LEED Gold server base located in Utah to the largest solar installation in Silicon Valley at their San Jose campus, which also has a community garden that is fertilized by its onsite composting program. eBay is taking big steps when it comes to being green and offering Canadian consumers brands like Preloved is just part of their bigger strategy.
eBay is also be launching green.ebay.ca a site that is dedicated to green products, check out how they choose their products and help business become green.
Great style and a greener (not to mention more convenient way to shop), we know where we are getting our Fall styles from!
Happy shopping.