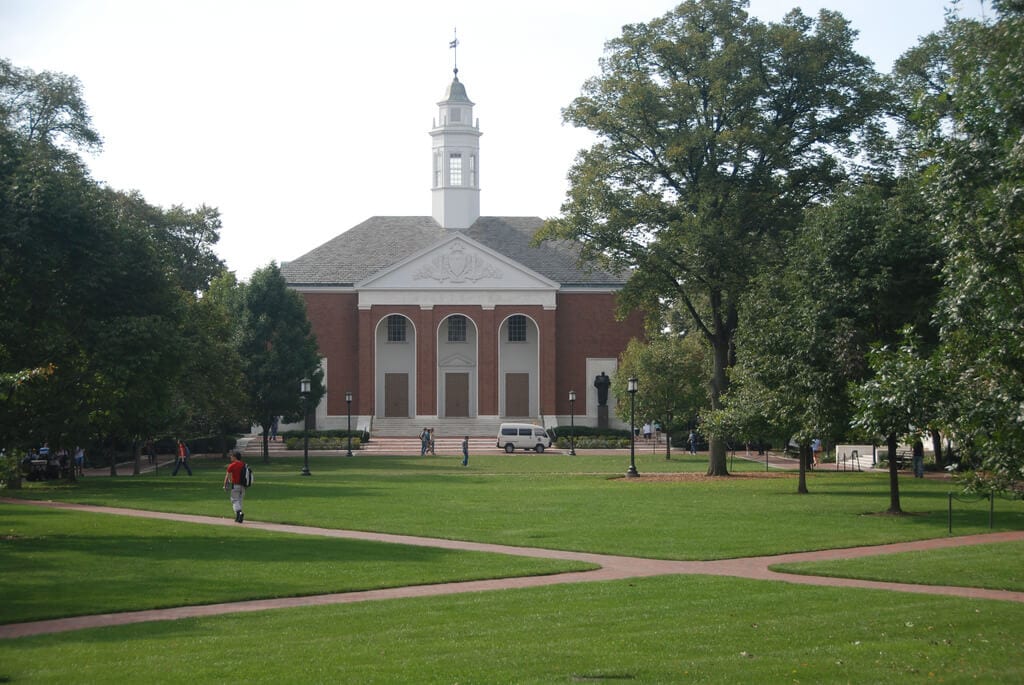 For young environmentalist visionaries, what is often lacking is neither passion nor ability, but funding. But it doesn't have to be that way. If you're looking for the financial resources to launch your environmental career, check out this list of green scholarships that could help you invest in your future and that of the planet at the same time.
1. EPA Marshall Scholarship
The Environmental Protection Agency (EPA) is at the forefront of ecological protection and education in the United States. Each year, the Agency co-funds a selection of prestigious 'EPA Marshall Scholarships' in partnership with the UK's Marshall Aid Commemoration Commission. The bi-national scholarships finance at least two years of graduate environmental research in the UK by American students. For those who become doctoral candidates, another three years of research assistance may be available. About 40 U.S. students are eligible for Marshall Scholarships each year across all subjects; any Scholar that studies an environmental area is eligible for an award.
2. ERM Foundation Sustainability Fellowship
The ERM Foundation, a charitable arm of global consulting firm Environmental Resources Management (ERM), provides financial assistance each academic year to six international students who aspire to social entrepreneurship. Funding today's youth and students is certain to have a profound impact on future generations. The ERM Foundation Sustainability Fellowship launched three years ago to sponsor enterprising graduate students with big ideas about sustainability. Each year, one Fellow receives $15,000, plus valuable mentorship through the professional ERM network. $5,000 awards are also given to the Top 5 Finalists.
3. NOAA Hollings Scholarship
The National Oceanic and Atmospheric Administration (NOAA)—the premier scientific U.S. agency overseeing the planet's climate, oceans and atmosphere—offers the Ernest F. Hollings scholarship for American college sophomores who are interested in advanced research, education and policy training under the Agency's aegis. The exciting package includes up to $8,000 for a year of full-time study, a 10-week internship and a chance to earn a second year's worth of funding.
4. Brower Youth Award for Environmental Leadership
Named for one of the 20th century's great environmental heroes, the Brower Youth Award for Environmental Leadership is a 13-year-old project of the Earth Island Institute that seeks to empower idealistic young people to achieve their goals on behalf of a greener world. There are six winners each year, each enjoying $3,000 cash, a professional documentary featuring their work and a week of intensive leadership training in San Francisco. This inclusive contest is open not only to students, but any North American youth between the ages of 13 and 22 with demonstrated potential as an eco-leader.
5. BCI Student Research Scholarship
Bats are crucial animals in numerous habitats, but these important flying mammals could face extinction without our proactive protection. Yet the paucity of information about bats' complex ecology is a major obstacle to making headway in their conservation. It might seem like one of the more weird scholarships, but Bat Conservation International, or BCI, annually enlists the help of talented and independently motivated graduate students who want to conduct research in support of bat conservation at a global level. Up to $5,000 for a year of research is available for international students who are ready to go to bat for the critical cause of Chiroptera salvation.
6. Hardwood Forest Foundation Educator Scholarship
Prepping tomorrow's teachers with the tools to foster environmental leaders, the Hardwood Forest Foundation offers a $1,500 scholarship each year to an aspiring educator in their senior year of college or in graduate school. Additionally, about 14 runners-up will receive $1,000 to help fund their education and foster a long-term commitment to sustainable forestry. Applicants must write a compelling essay about how they will implement the Hardwood Forest Foundation's 'Truth About Trees' educational-scientific toolkit in their future classrooms to help kids learn about science-based resource management at an early age.
7. Great Lakes Commission-Sea Grant Fellowship
The Great Lakes of the northern U.S. are the largest freshwater system on earth after the polar ice caps, but they are in grave danger from severe pollution. There are scholarship opportunities for students who are passionate about protecting these waters for future generations. Together, the Great Lakes Commission and Sea Grant Network host an annual opportunity for a lucky Fellow to join them in Ann Arbor, Michigan to carry out professional scientific, policy and educational research in support of the Great Lakes ecosystem. This scholarship is available to students who are in a graduate or professional degree program in a policy or environment-related area of study.
8. Annie's Sustainable Agriculture Scholarship
There aren't a lot of eco-scholarships available for both undergraduate and graduate students, but 'Annie's Homegrown' is trying to change that. The native Berkeley company offers a generous round of scholarships each year to students pursuing studies in Sustainable and Organic Agriculture. The organic snack maker's goal is to provide meaningful support for the next generation of eco-friendly farmers. The awards amount to up to $10,000 for ag students who can demonstrate a workable vision and solid commitment to sustainable planting practices.