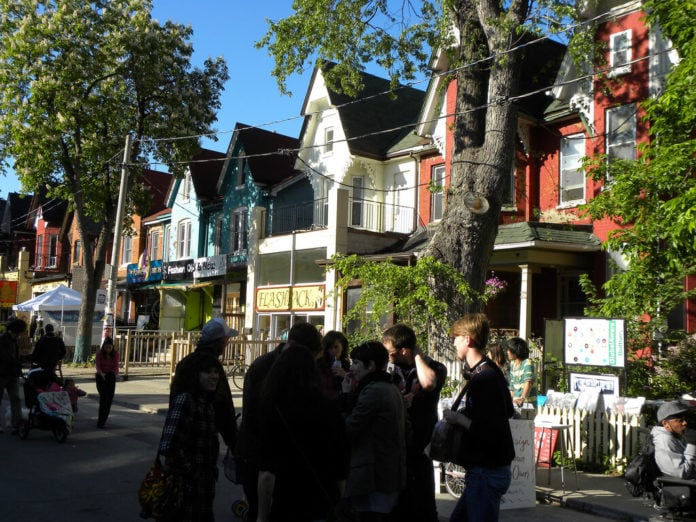 As the world tries to navigate through a period of high energy prices, economic instability and demographic change, it's no surprise that many North Americans are becoming more interested in urbanized living. With essential amenities like banks and grocery stores designed across smaller spaces, urban centres are often seen an attractive alternative to the traditional car-dependent suburbs.
A new book released this week explores urban centres and analyses the factors that make them successful.
"Made for Walking: Density and Neighborhood Form" is written by landscape architect, urban designer, and photographer Julie Campoli. It identifies the essential characteristics of successful urban neighborhoods that provide a better quality of life and a reduced carbon footprint.
Based on the latest research on urban form and travel behavior, Made for Walking provides new ideas about the role of density and the importance of diverse land uses.
The book examines detailed case studies of 12 urban neighborhoods of approximately 125 acres each, which is considered a comfortable pedestrian walk zone. The neighbourhoods studied are:
LoDo and the Central Platte Valley, Denver, Colorado
Short North, Columbus, Ohio
Kitsilano, Vancouver, British Columbia
Flamingo Park, Miami Beach, Florida
Little Portugal, Toronto, Ontario
Eisenhower East, Alexandria, Virginia
The Pearl District, Portland, Oregon
Downtown and Raynolds Addition, Albuquerque, New Mexico
Greenpoint, Brooklyn, New York
Little Italy, San Diego, California
Cambridgeport, Cambridge, Massachusetts
Old Pasadena, Pasadena, California
These neighborhoods were selected because each offers a series of choices: various modes of transportation, diverse housing types, and a variety of things to do and places to shop. Their streets are comfortable, attractive, and safe for biking and walking, and they all show how compact development can take shape in different regions and climates.
According to Campoli, six specific qualities make them walkable: connections, urban tissue (the web of property lines and rights-of-way), population and housing density, services, streetscape, and green networks.
The author states that understanding urban design principles is important not only to new development, but to places that are being rediscovered and reinvented. Many of the neighborhoods Campoli analyzes were once centers of bustling industry and growth, followed by decline and depopulation as rail-based transportation was replaced by the highway — which dispersed economic energy in more diffuse patterns at the edges of cities.
Campoli goes on to illustrate that it is the neighbourhoods' ready-made networks of small blocks and connected streets that shorten distances (and make walking easy!) that are drawing people back into these particular areas.