One of the most common everyday materials we come in contact with is cardboard. Plain brown cardboard is so unremarkable that it's often never considered as use for anything other than packaging. However, this is far from the truth. Just because it's unremarkable doesn't mean that it doesn't have a whole myriad of uses.
Cardboard Furniture
Cardboard furniture is something that's being increasingly utilised by savvy and forward thinking individuals who don't have the money to pay through the nose for hard furnishing made from wood or plastics. In addition, the pieces are made from 100% recyclable cardboard and are aesthetically very interesting and also affordable.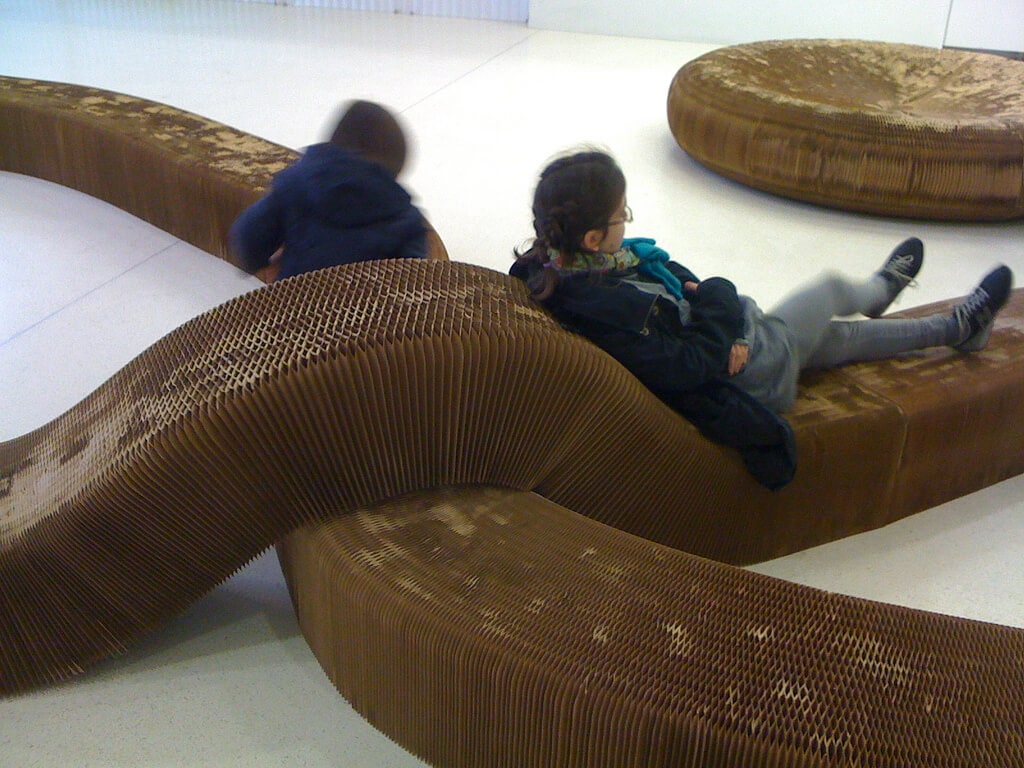 We're not just looking at a cardboard box shaped into a piece of furniture. This sleek and attractive alternative to traditional furniture is extremely strong thanks to its high strength to weight ratio and the use of corrugated cardboard. Of course, the other big benefit is that it's flat packed and can be folded together on a whim.
This sort of corrugated cardboard differs greatly from the traditional alternative as it's made to make the most of the middle layer of arcs – this is the sturdiest way to add strength to an area or a space.
Composition
The cardboard used for furniture of this kind is made up of sheets of what's known as linerboard. This is made from extremely high density material that's created with virgin fibres – these are not used previously in cardboard and so are stronger.
The centre of the device is created from the recycled consumer cardboard or paper, which is of a reasonably high density and makes up the mass of the product. This centreboard is made into a wavy shape with steam and machines and acts in a similar way to an arch on a building to reinforce the sheets of cardboard and make it a lot harder to bend or break than an otherwise flat layer of cardboard.
One of the most infamous designers in this area is Frank Gehry, who in the 1960s saw the potential for cardboard as a material for furniture. Gehry is renowned for his curved designs and very modern take on furniture and people who have purchased his chairs will testify that the cardboard becomes very soft and comfortable when worked over and sat on for a period. Of course, Gehry's furniture is extremely expensive, but that doesn't mean cardboard furniture is.
Benefits and Low Cost
Cardboard furniture has a quite low price point due to the fact it's made from little more than recycled paper. This means that it suits people who don't particularly want to spend hundreds or thousands of pounds on furniture.
For students or young people looking for items to last a few years we believe this makes it an ideal substitute.
Of course, if you're worry about safety issues, you needn't either. There are a number of treatments for cardboard material that waterproof and fireproof it, ensuring that it's safe even in such adversity.
In addition to it being cheap and safe it's also easy to take down, fold up and transport – something people who move home regularly will certainly appreciate. It's also extremely light, which means it can be carried – perfect for students.
From desks, to chairs to lockers and drawers and even bicycles a wide range of different household items can be easily made from cardboard. It's cheap, green, versatile and also stylish and looks like it could become increasingly popular and we don't wonder why.