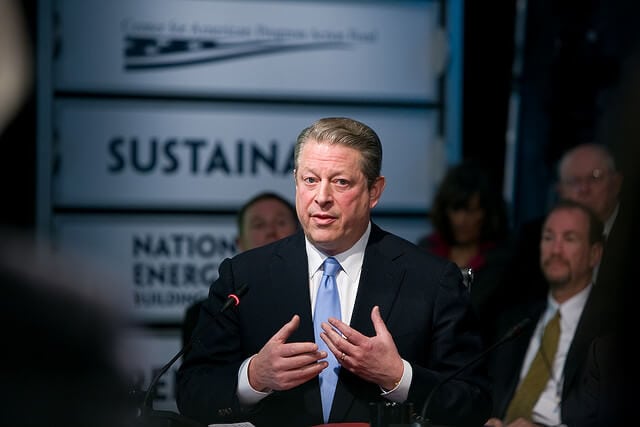 Al Gore is one of America's most prominent proponents of protecting our environment. But if you're thinking about green energy for your portfolio, the ex-Vice President would reportedly say: "Don't do it."
There was a column published recently by Colin Flaherty on WND.com. Flaherty quotes Bill Gunderson, president of Gunderson Capital Management. He says although Gore would never give that advice publicly, SEC filings from Gore's company, Generation Investment, reveal a lot.
"Generation Investment says it is all about climate change, but it is just a typical investment fund with typical stocks," Gunderson told Flaherty.
"It has Amazon, Colgate Palmolive, eBay, Nielsen, Qualcomm, Strayer University and a smattering of stocks from biotech and health care. Not one company that makes solar panels, or windmills or biogas or electric cars. Catheters and commercial real estate, yes. Solar panels, no."
But apparently that's a good thing because, as Gunderson went on to tell Flaherty, the so-called clean tech sector has been a terrible investment for at least two years.
Flaherty notes that First Solar is America's largest maker of solar panels. It was also one of the few pure climate-change stocks Generation Investment had in its portfolio. And it was reportedly a disaster.
In the summer of 2010, Generation Investment bought about 440,000 shares of First Solar, worth almost $65 million
Flaherty reports that Gore bought near the peak: "As the price of First Solar plunged from $141 in 2010 to $30 in the first quarter of 2012, Gore's company kept throwing good money after bad, buying more and more stock until its investment in early 2012 totaled about 1.12 million shares worth about $28 million dollars."
SEC records reportedly show that Generation Investment sold it soon after.
Generation Investment also has private investments and investments in other alternative energy companies that it is not required to disclose to the SEC, Flaherty reports.
Among the companies listed in the "private and confidential client update" from Generation Investment are SMA Solar, the largest solar company in Germany. Its value has reportedly gone down 57 percent over the last year.
In China, Flaherty continues, Generation Investment said it had an investment in the world's largest solar panel manufacturer, SunTech. That stock has gone down 82 percent over the last year.
"I don't blame Gore for getting out of alternative energy," Gunderson said to Flaherty, "even if he did it too late in the case of First Solar. But when is he going to tell people that alternative energy is a lousy investment?"
Flaherty reports that neither Gore or Generation Investment would discuss the details of their purchases.