Normally, I would say that defacing public property is a big no-no.
But this prank has drawn the attention of even those "too cool for school" types (you know the type I'm talking about) to the dark side of SeaWorld.
And that can't be all bad, in my books.
The well-known MTV reality television prankster, Steve-O, popular for his role on Jackass has finally come out and taken responsibility for a prank that was committed in May of this year.
The prank included changing the words on a SeaWorld exit sign on southbound Interstate 5 along the San Diego freeway.
The trickster showed his disdain for SeaWorld by duct taping the word "SUCKS" (masterly printed on green paper to match the sign's background) over a highway sign that included the SeaWorld Drive exit information.
The result?
The sign read "SeaWorld SUCKS".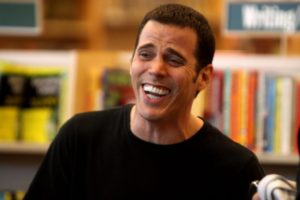 A hiliarious video of the prank was released on Steve-O's YouTube channel Wednesday, 20th of August 2014 at 6pm and has since become viral with over 400,000 views.
The video shows Steve-O declaring "I'm putting my foot down for Shamu" before trying repeatedly to scale the highway sign.
The first attempt, involving Steve-O overestimating his rope climbing skills, failed. The second attempt involved five guys trying to hoist him up. Which failed too. The third attempt used a flimsy rope ladder, which snapped and dropped Steve-O to the ground.
According to the video, it took five attempts in total, over two days to get up to the sign. (I'm kind of surprised no one called the authorities to tell them that there was a ground of guys trying to scale a traffic sign?)
Not one to be discouraged, Steve-O goes and buys a ladder and finally finishes his prank.
After getting his sign up, Steve-O states "if this is wrong, I don't want to be right" and gives SeaWorld another talking to.
He also asked viewers to share his video with the hashtag #SeaWorldSucks. Oh, and to wish him "luck with the law." (Good luck!)
A sentiment that a lot of us can probably agree with.
[youtube https://www.youtube.com/watch?v=eleVfRwufS4]
Steve-O's connection with PETA
SeaWorld has been under the spotlight for some time now, after the popular 2013 documentary Blackfish highlighted the dangerous practices that the instructors were operating under and the harmful conditions the animals were living in.
Just days before the prank, PETA (People for Ethical Treatment of Animals) unveiled a similar anti-SeaWorld sentiment with a sign at San Diego International Airport. The$24,000 comic-book style ad, that was posted beside Terminal 2, was aimed to stop Comic-Con attendees from going to SeaWorld.
Steve-O identifies as an animal rights activist, and has had connections with PETA in the past having posed for PETA public service campaigns before. However, there's no known connection between Steve-O and PETA's newest campaign.
On Wednesday, the Chief Steve Saville of the Caltrans District 11 Public Information Office said:
We consider defacing public property at a cost to state taxpayers an unlawful act and a dangerous distraction for motorists. We will refer all information to the California Highway Patrol.
SeaWord has yet to make any comments.