As the modern sustainability movement tightens its tendrils on current design trends, 'green walls' (or vertical gardens) are becoming increasingly popular as the eco-friendly among us reap the benefits of injecting life, quite literally, into our home interiors.
These stunningly serene green walls are not only aesthetically pleasing and perfectly in keeping with the primitive shapes and nature-inspired trends this season, they also reduce noise pollution, provide edible produce and improve psychological wellbeing with their calming presence.
The cleaner air provided by photosynthesising plants can also reduce air conditioning costs in some cases and, when placed on the exterior of buildings, reduce what is known as the Urban Heat Island Effect where increased CO2 in the atmosphere of cities causes a rise in temperature.
Image: Mannewaar
The concept of green walls isn't new; in fact the idea was first patented by Stanley Hart White in 1938 and made famous by Patrick Blanc's show-stopping 'vegetal wall' installation at the Musée du Quai Branly in Paris, nearly 70 years later.
Since then, green walls became ubiquitous with award-seeking architects looking to brighten up the dreary corners of corporate buildings. But now, finally, the trend is being welcomed into the homes of the ecological and style conscious, adding an exciting and dynamic dimension to any décor scheme.
Vertical gardens are grown and maintained using a process called hydroponics, where a 'geo-textile laminated curtain' acts as a pocket for your plants. Water and minerals are absorbed through a series of irrigation channels that slowly filter down the wall, with excess water being recycled in a clean and efficient process that's surprisingly easy to maintain. So for those of us who don't possess green fingers, trimming, weeding and checking water levels regularly are all that is really required.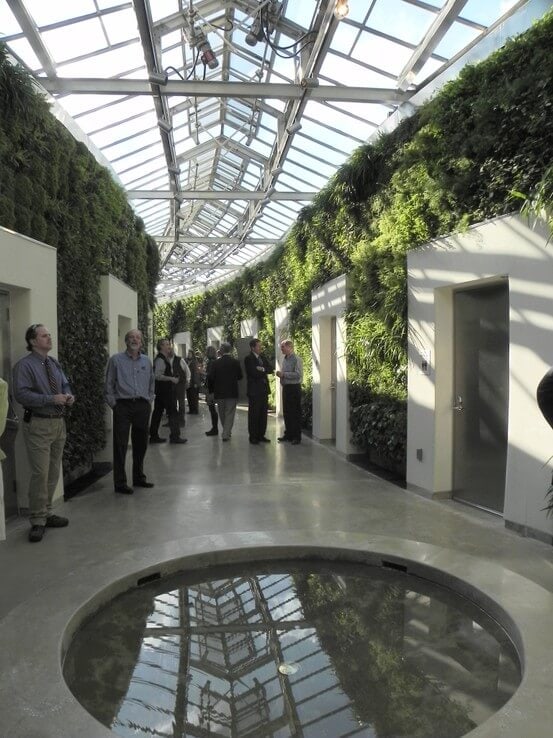 Image: Ambius
An array of beautiful blooms and plants will thrive in a vertical garden provided they have small roots. Succulents are perfect because they need very little water. Tropical and fern species will also work as they have similar care requirements, and to give your green wall a contrasting shade, peace lilies will add a touch of elegance.
One important point to bear in mind however is that no green wall lasts forever – unlike plants out in the ground that have almost unlimited depth for their roots, on a vertical wall those roots are quickly going to run out of space to grow and when that happens, the plant will die. So choose plants whose roots will grow a little slower, and if you want to be really plant-friendly move them over to a garden at the first signs of wilting and replace with a new, young plant.
Now all you have to do is pick a wall in your home that sees the most sunlight and then a specialist green wall design and installation team can meet your requirements from there – unless you want to be extra daring and have a go at this yourself!
Happy vertical gardening!