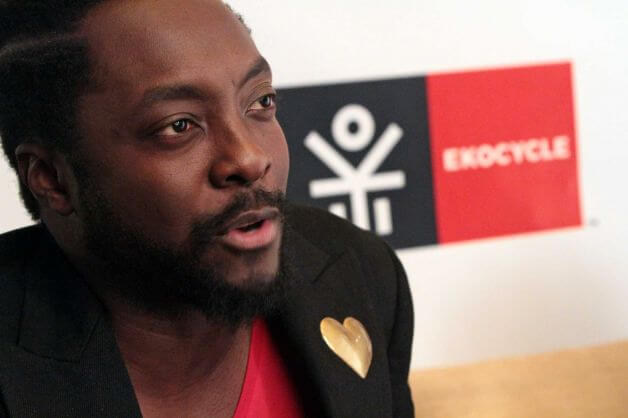 Musician will.i.am and The Coca-Cola Co. are trying to give products made from recycled materials a new look that gives the products a hipper image so that they appeal to young consumers. The Black Eyed Peas member and Coca-Cola are partnering to create a line of clothing and gear called Ekocycle that will be made exclusively from recycled cans and bottles, and will be designed by other collaborators as well. Each of the products will have a logo that informs consumers about how many recycled products were use to create the product.
The first Ekocycle ad is slated to air Wednesday during the Olympics, which Coca-Cola is sponsoring. Will.i.am shares in a statement:
"With the EKOCYCLE brand, I'm on a mission to educate and inspire consumers around the globe to seek out more sustainable lifestyle choices that will ultimately play a part in the movement toward a world with zero waste. By making products that contain recycled materials more attractive to both businesses and consumers, everyone can do their part to keep the cycle going to turn discarded waste into cool, new items. The Coca-Cola Company shares this vision and together working with local communities worldwide we will showcase the greater value of recycling, as well as selecting products that feature recycled materials."
The idea is to partner with other celebrity designers to sell a wide variety of items including, but not limited to, bicycles, shoes, handbags, hats, glasses, tables and headphones. For instance, the first product to be launched are a pair of $349 headphones created by rapper Dr.Dre and music producer Jimmy Iovine that will be made using 3 plastic bottles. Another product will be an Ekocycle hat designed by New Era, which will retail for $32. Needless to say, the Ekocycled products are not cheap since acquiring recycled material is an expensive process. This bears the question: Will these products appeal to consumers?  Will.i.am and Coca-Cola are relying on celebrity influence and big brand names to create appeal for consumers.
So will the amount of recycled materials used to make these products make a big difference in the big picture? According to the chief sustainability officer of Coca-Cola, Bea Perez, the volume of recycled goods used in the products won't be significant at first. But Perez believes that this line will help revamp the image of recycled goods and get younger consumer to think about waste.
What's more, Earth911 will be joining the brand by offering access to a recycling directory, with more than 1.5 million ways to recycle in the U.S., for consumers at EKOCYCLE.com. Earth911 shares:
EKOCYCLE was developed to create social change by educating consumers about everyday recycling choices and empowering their purchasing decisions. It helps consumers recognize that "waste" items today may be a part of a lifestyle product they can use tomorrow.
If recycling and sustenance isn't reason enough, or if the price tags of these goods are making you reconsider this line, then consider this: Will.i.am plans to give his royalties to educational charities and Coca-Cola will donate a portion of its profits to recycling and community improvement projects.
Check out EKOCYCLE's first commercial below: