Our future is green, and that is the simple truth. Underneath all the distractions of the modern world, we know this as a fact. Every day new technologies, new practices, new designs and new ideas are created in order to move our world into a sustainable future and this progress is only accelerating.
But this also means that the job market is changing. We no longer live in a world where blue and white collar are the only options. Now, there are green collars too (or more apt, green thumbs!)
But to get green jobs, we need green education. And one man, Stephen Ritz, realized that.
Ritz took his high school classroom in the South of Bronx, a borough that's name is synonymous with poverty, violence and unemployment, and created what is known as the Green Bronx Machine.
Ritz, a man with incredible energy and enthusiasm (and who claims to be the world's oldest 6th grader), took kids from the lowest income backgrounds, kids who have special educational needs, who have lived their entire lives in foster care, who are coming from the criminal justice system, or who are homeless and he gives them a purpose: the environment.
How did it all start?
All great ideas grow from simple places, and this was no different. After Ritz received bulbs as a gift from someone, he threw them behind the radiator because he didn't know what else to do with them. When they began to sprout, an idea struck home.
Why not teach the kids how to grow plants?
That's when he started growing vegetables with his students in an abandoned lot. But when the vegetables kept being stolen, or when not all students had the capabilities to go outside every day and work with them, Ritz knew that he had to take the project indoors. And that's when he contacted George Irwin with Green Living Technologies who developed an indoor edible wall.
And it all went upwards from there.
Students began to learn about plants, about healthy living, good food, the environment and they began to love it. Ritz's first group all graduated high school and are now either in graduate education or are working. His students' pass rates in science and maths is 100% and attendance rates skyrocketed from 40% to 93%.
But the students haven't kept it inside the classroom for long. They've stemmed further out, reaching out to their community which is in most of need. With their "food for others" project that located in Bissel gardens which stretches across 8 blocks, the students and Ritz are able to donate all the produce to local soup kitchens, shelters or farmer's markets.
Growing students as well as plants
Ritz always claims that he is not a farmer, he's a teacher. This statement reminds us what his real purpose is, and that's taking students who are traditionally "apart from" success and allowing to become "a part of" it. Sure, Ritz wants to grow good food and a better environment, but he's a teacher first and foremost and it's growing good jobs and good citizens that makes it all worth while. 
Ritz's students are trained and licensed to install "edible walls" into other environments, and have been taking the country by storm in doing so. The students learn skills that the post-petroleum 21st century will desperately need: Green roofing, urban agriculture, brown field remediation, natural resource management as well as giving them the skills that can be applied multiple other trades that will keep them employed for the rest of their lives.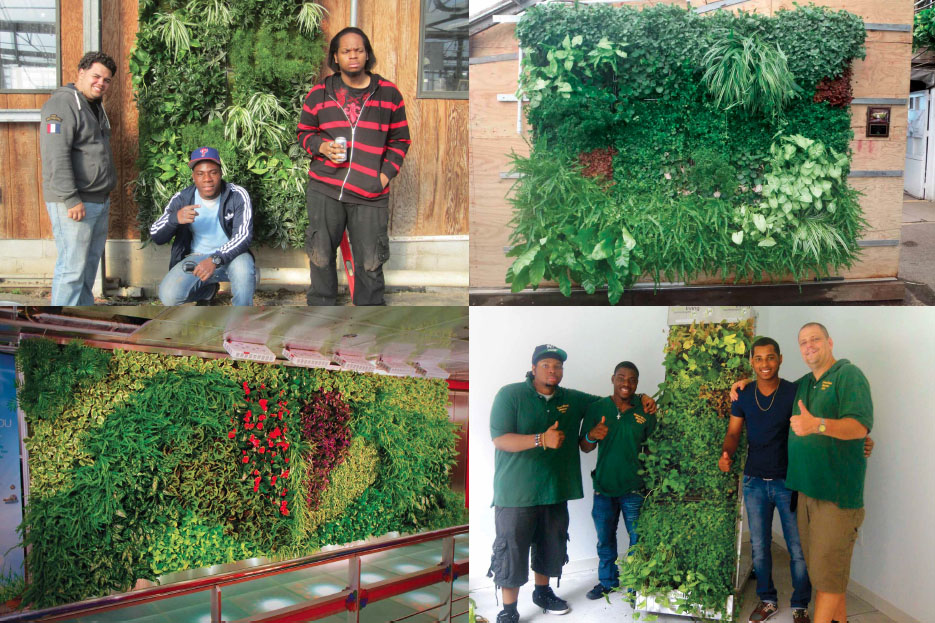 The walls are installed with computers and L.E.D lights to help promote the wall's growth. From installing the technology, to planting the seeds, it's Ritz's students that are the leading experts in this industry.
This means that not only are the jobs coming back into the Bronx, but the students are learning green, living green and working green. And while Ritz claims that his students don't have to be farmers, he also states that
"we do expect them to read , write, do the science, the math, problem solve, speak to ordinal directions and processes, offer outstanding customer service, be engaged and aspire to things and places they've never imagined before". 
Check out Stephen Ritz's fantastic TED talk about the Bronx Green Machine and get inspired to make a difference!